This is a PAID workshop. Please scan the QR code in the poster below to finish the payment and secure your seat ASAP!
About this event
Business decisions are all about predictions: "to hold or to sell my stock" depends on how well you can predict the stock market performance; "to increase or decrease my inventory" depends on how well you can forecast your sales.
Can we use Predictive Machine Learning Models as a game-changer in this domain? Join us in this full-day workshop to discover!
10:00-12:00: Intro to Python and Data Visualization
1.1 Learning the basics of Python language
Python is a powerful, flexible programming language you can use in web development and to process and manipulate lots of data. Python and its various libraries enable programmers to scrape the web for data, and then manipulate and even visualize that data.
1.2 Learning how to visualize data with Python
When we watch reports or presentations, we naturally first look at the graphs and charts. Data Visualization is a key aspect of anyone working with Data Science or Analytics, as it helps you not only locate trends and insight, but also present your findings in a compelling way.
And to stay relevant with a world bulging? With data, we need a better tool than Excel - Python.
Part 2: Building your first Predictive Machine Learning Model in Python
2.1 How predictions are done with Python and Machine Learning
Predictive models use a technique called Time Series - a basic concept in Machine Learning, which processes past data to forecast future outcomes. . But how do these things work? Predictive models are used by companies to forecast business outcomes, sales, product demands, workforce planning, competition analysis and more, so it's a very useful tool.
2.2 Predicting stock prices and forecasting sales using your Prediction Model
After discovering the tools, we are going to build our own model to make predictions on sales data and stock prices. We will then explore how we evaluate the performance of our model and visualize its results.
⏰ Saturday 2021/7/24 10:00 -17:00
📌XNode 9/F, Yan'an West Road 129, Jingan District, Shanghai
💁🏻‍♀️ English
💰 ¥399
💻 Please bring your own laptop. No coding experience needed.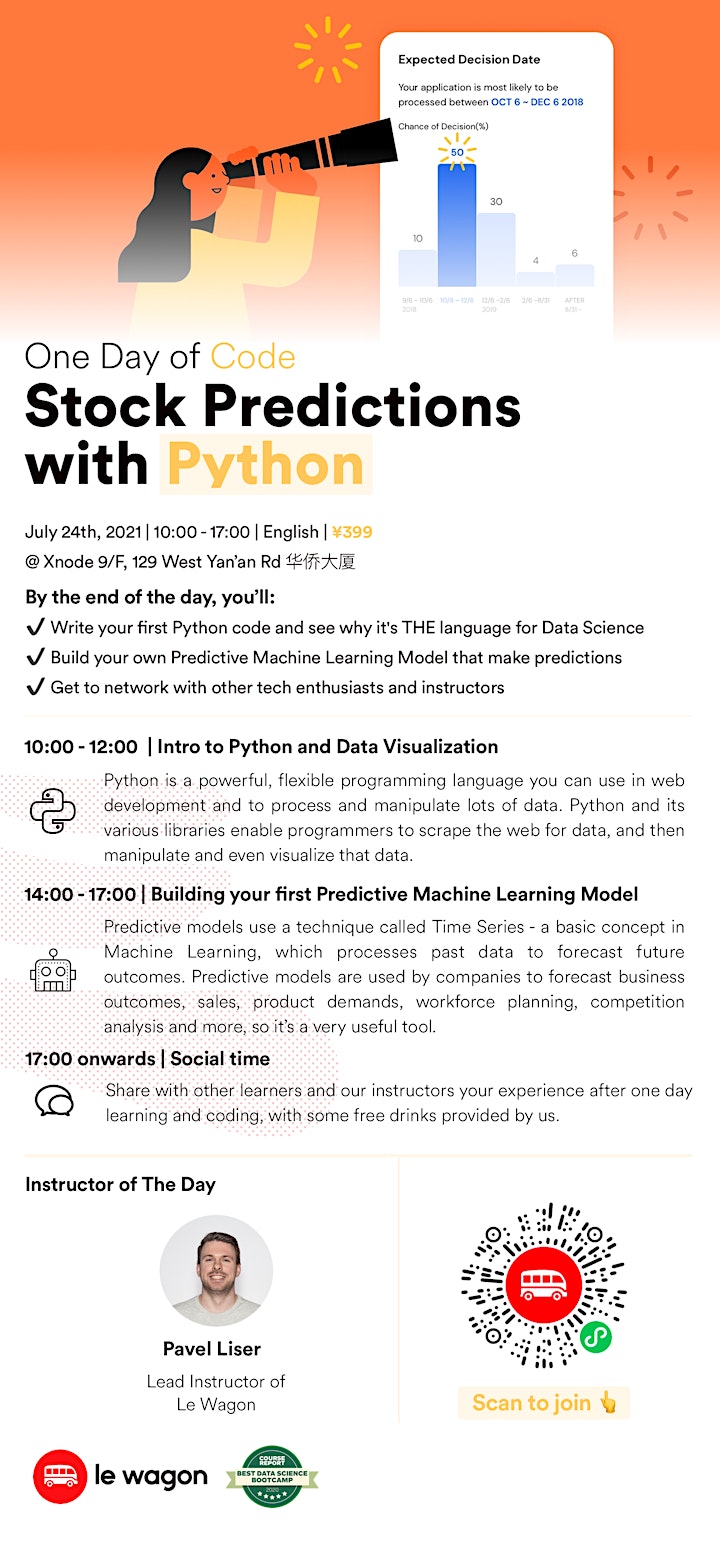 Organizer of One Day of Code - Stock Predictions with Python
Le Wagon is a world leading coding bootcamp, now celebrating over 7,000+ alumni on 5 continents and 38+cities, including Shanghai, Shenzhen, Chengdu, London, Berlin...Founded in Paris, France in 2013, Le Wagon has quickly become the No.1 rated coding bootcamp around the World.
Through immersive coding bootcamps, Le Wagon teaches you the skills and entrepreneurial mindset you need to thrive - now and in the future. Our cutting-edge curriculum and world-class teachers give students all the skills and tools needed to kick-start their tech career, land a job as software developers or product managers, data professionals, or launch their own startup.
Le Wagon是⼀家全球领先的编程训练营,现已在全球五⼤洲和超过38个城市开设分校,包括上海、深圳、成都、伦敦、柏林...拥有超过7000多名校友。Le Wagon编程训练营于2013年创⽴于法国,并迅速成长为全球排名第一的编程训练营。
Le Wagon教授学员现在和将来蓬勃发展所需的技能和企业家思维。我们开发前沿的课程和配备世界⼀流的导师,并为学员进⼊科技行业提供其所需的技能和⼯具。学员有机会成为软件开发人员、产品经理,数据专家,或从0到1开始创业。