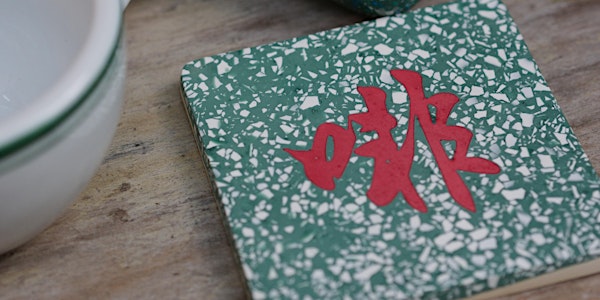 Old HK Terrazzo Coaster Workshop 唐楼水磨石工作坊
Make TWO "Old HK" terrazzo coasters with a choice from of four Chinese characters- Coffee "啡", Tea "茶", Wine "酒", Beer 參與者可設計,製造兩款"唐樓"杯墊,可選
When and where
Location
the Hive Kennedy Town 12P Smithfield 10F HONG KONG, HKI Hong Kong
Refund Policy
Contact the organiser to request a refund.
About this event
Wander around the streets of old districts like Wan Chai, Sham Shui Po or Sheung Wan and you might catch a glimpse of old Hong Kong in the form of "tong lou 唐楼", old Chinese residential buildings built before the 1960s. One of the most beautiful features of tong lou are the brightly colored terrazzo facades and banisters. Made of pigmented cement with white marble chips, they are an iconic part of old Hong Kong architecture.
We've decided to bring a slice of this Hong Kong heritage to a modern audience with our Tong Lou coasters. Made from Jesmonite, a gypsum composite, they are inlayed with one of four Chinese characters- Coffee "啡", Tea "茶", Wine "酒", Beer "啤" and are fitted with a non-slip cork base.
Time and venue:
Date: December 4/19/26 (please select date in dropdown above)
Start at 4:00pm, Approx 2 to 2.5 hours
Participants should arrive 10 minutes before the workshop starts. The workshop will start on time. Late comers who arrive 15 minutes past the workshop time may be refused entry, and no refund/rescheduling will be offered.
Venue: 10f, Cheung Hing Industrial Building, 12P Smithfield, Kennedy Town
Workshop details:
You will make TWO 10x10cm coasters of your choice (please indicate which two characters out of the four you would like to make in the "leave message to seller" field at check out).
Participant can select from pre-made chips and can design the color of the two base color layers and the character. After casting and sanding, we will provide you with an adhesive cork base. Creations can be taken home at the end of the workshop.
Laser engraving service:
Optional- Add a laser engraved message to the cork base (limit 35 characters) +HK$80 (for both coasters). Please provide us with your custom message at least 3 working days before the workshop so that we can prepare the engraving. We will send you a form after your purchase).
Cancellation/ Rescheduling Policies for Public Workshop
A minimum of 5 participants are required to run a workshop. If there are not enough participants the night before the workshop, we will cancel the workshop and notify all the participants in the morning of the workshop. The fee will be refunded the next business day.
Payment: Full payment to confirm the booking, at least 2 calendar days prior to workshop.
Cancellation policy: 5 calendar days prior to the workshop. We will refund the full amount if cancellation is made before that date. After that date, there will be no refund if cancelled.
Adverse Weather
Typhoon 8 on the day of workshop: If the signal is still in force by 12 noon, then the workshop will be rescheduled within a month. If the signal is lowered before 12 noon, the time of workshop will remain unchanged. There are no refunds for adverse weather.
Black Rain: Same arrangement as Typhoon 8
時間,地點
下午4點至6點 時長:約2-2.5小時
地點:堅尼地城,士美菲路12P,祥興工業大廈,10/F
細節
基本價格包括每人製作兩個 10x10cm 杯墊,請在購物車界面留言選擇兩個字(茶,啡,酒,啤,四選二)。 參與者可選擇預先做好的碎石, 然後自己設計主色和字母色。 倒模和打磨後我們會提供軟木底貼。作品可即日帶走。
定制刻字服務
參與者可選擇在軟木底貼刻字 (最多35只字), 收費+HK$80 (兩個句子,一個杯墊一個)。請最小工作坊三個工作天前提供你的句子 (收費後我們會發表格給你)
公共工作坊取消/改期政策
至少需要 5 名參與者才能舉辦研討會。如果工作坊前一天晚上沒有足夠的參與者,我們將取消工作坊並在工作坊早上通知所有參與者。費用將在下一個工作日退還。
付款: 全額付款以確認預訂,至少工作坊前 2 個日曆日。
取消政策:工作坊前 5 個日曆日。如果在該日期之前取消,我們將全額退款。在該日期之後,如果取消,將不予退款。