腦化「好」生活 OK Dementia 從認知障礙症啟發的十個日常「腦化生活」課題 10 Everyday Topics Inspired by Dementia
About this Event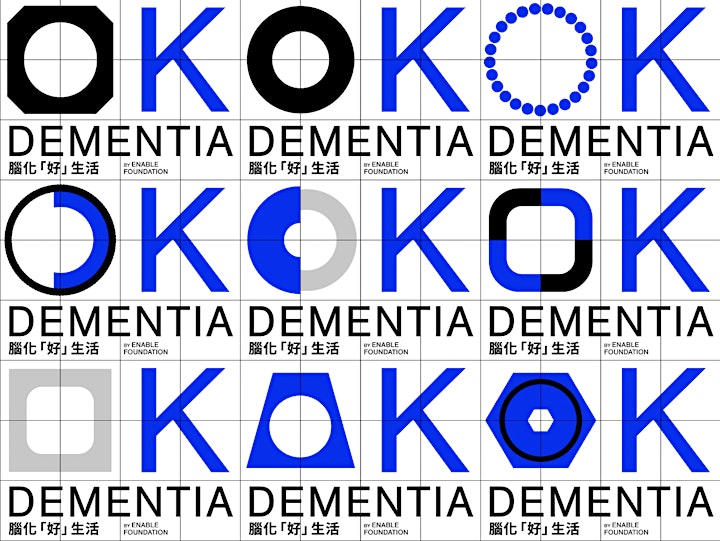 腦化「好」生活 OK Dementia
2020年夏季,啟民創社的設計研究團隊與本地十間社福機構,與其長者地區中心的前線社福員工進行了一系列共創活動,團隊透過跨界別共創整合出十個新設計角度,探索腦退化的生活文化議題。活動以主題形式展示共創腦化物件的設計初型,並邀請大眾參與「腦化香港」的設計過程。
Over summer 2020, the design research team from Enable Foundation conducted a series of co-creation workshops and activities with ten Local NGOs' District Elderly Centres' frontline social service workers. The cross-disciplinary conversations evolved into ten dementia-inspired design directions, enabling us to develop further into the cultural and lifestyle issues of the Dementia Community. The event will showcase a range of Dementia Things prototypes, featuring co-creation sessions for citizens to participate in the design process of "Dementia Hong Kong" project.
Programme Highlights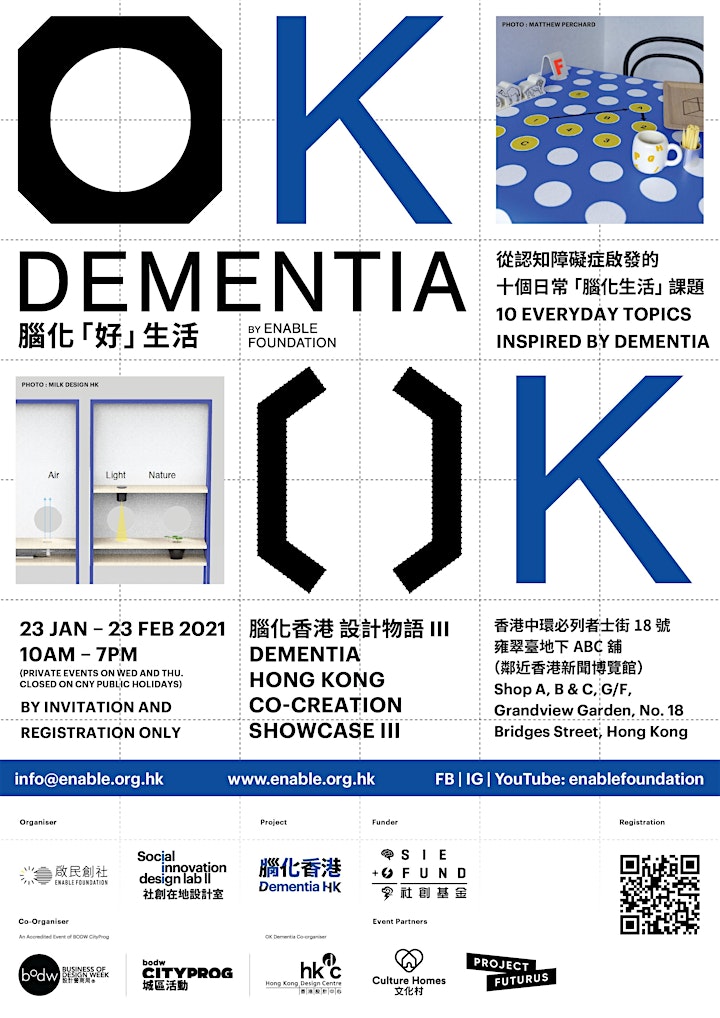 腦化「好」生活 OK Dementia Part II
從認知障礙症啟發的十個日常「腦化生活」課題
10 Everyday Topics Inspired by Dementia
23 Jan 2021 - 23 Feb 2021
10 AM – 7PM (Private events on Wed and Thu. Closed on CNY public holidays)
香港中環必列者士街18號雍翠臺地下ABC舖 (鄰近香港新聞博覽館)
Shop A, B & C, G/F, Grandview Garden, No. 18 Bridges Street, Hong Kong
BY INVITATION and REGISTRATION ONLY
Co-Creation Experience Timeslots :
10AM , 11:30AM , 1PM , 2:30PM, 4PM, 5:30PM (Pre-booked sessions)
Each Co-Creation session will last for 1.5 hours. We highly recommend participants to be on time.
Special Session: Enable Foundation x Hong Kong Sinfonietta
OK Dementia Experience with Music Inspiration by Hong Kong Sinfonietta
Date : 29 Jan 2021, 5 Feb 2021
Timeslote : 1730 - 1930 (2hrs )
社創在地設計室 SI.DLab II (2020-2021)
腦化香港 Dementia Hong Kong
Organiser
Enable Foundation
Capacity-building programme funder
SIE Fund
An Accredited Event of BODW CityProg
BODW CityProg 2020 Design EduVation
Co-organiser
Hong Kong Design Centre
OK Dementia Venue and Event Partners
Culture Homes + Project Futurus
Music Experience Special Session Collaboration
Hong Kong Sinfonietta
腦退化症/認知障礙症,是多種腦部功能衰退疾病的統稱;面對這個全球老齡議題,設計師能否從共融文化角度,找出創新的跨代跨界別合作模式?非牟利社會設計機構啟民創社今年開展了「腦化設計」系列的第二部曲,設計研究項目為社創基金資助的2020-2021年度的能力提升計劃:社創在地設計室——「腦化香港」,鼓勵跨界別共創未來的「腦化設計物件」。計劃邀請了十間為社區提供認知障礙症支援服務的香港社福機構作計劃夥伴,聯同啟民創社設計研究團隊、本地及外國設計師、設計學生和認知障礙症社福專家、機構等,開展為期十四個月的設計研究和共創工作坊。
過程中,設計團隊透過不同的共創工具,了解認知障礙症人士的生活細項和難度,並搜集資料和故事,啟發不同角度的未來腦化設計方向和物件,為腦退化人士、照顧者、社福界別和大眾,建立接納認知障礙症市民和照顧者的共融社區文化。從2020年12月開始「腦化香港」設計物語 II,我們展示一系列來自社創設計室的共創腦化設計物件,讓大眾透過設計物件體會創造力、包容性對認知障礙友善文化和未來老齡社會的重要性,內容包括腦化物件展示、共創工作坊和講座等。
Dementia is a broad category of brain disease that causes a long-term and often decrease in cognitive abilities. What can design do for the global ageing issues? Can designers initiate a more inclusive and cultural approach towards the topic, hence advocate new cross-generational and cross-disciplinary co-creation models? Enable Foundation, a non-profit social design collective, kick-started the SI.DLab II Dementia Hong Kong project in 2020. It is a capacity-building programme funded by SIE Fund to develop the second collection of "Dementia Things", through cross-disciplinary co-creation between creatives, social service experts and organisations. In this new programme, we have partnered with ten Hong Kong NGOs, who provide Dementia Supporting Services in communities, together with our collaborators which include designers from Hong Kong and overseas, design students and social experts in Dementia.
The new 14-month programme aims at investigating the everyday life stories of people living with dementia and their caregivers, through different co-creation design tools. Since December 2020, we launched a series of new "Dementia Things" direction and idea prototypes to explore further how design objects and the co-creation process can inspire everyone to be open-minded and creative with Dementia in our future super ageing society. The events include a series of design things showcase, workshops and talks.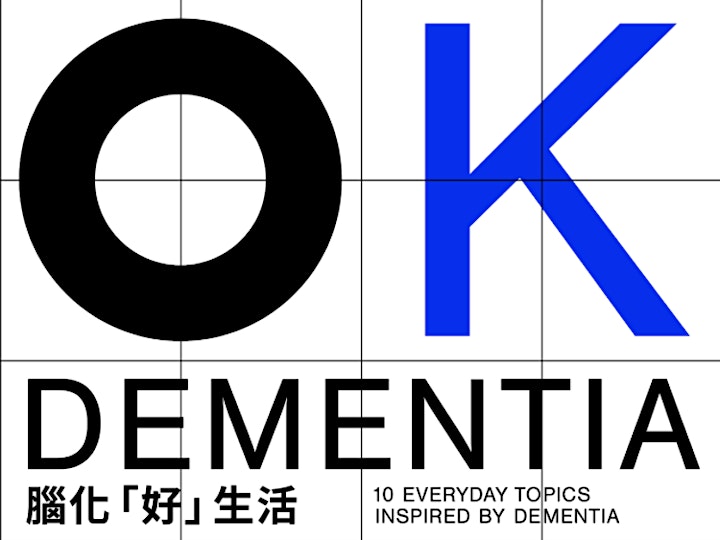 從「智友醫社同行」計劃延伸的三類「腦化生活」範疇
Three Core Domains of Dementia Developed from "Dementia Community Support Scheme"
創新感知 Making Sense (日常技能 Functional Skills),
個體聯想Reimagining Individuals ( 認知刺激 Cognitive Stimulation) ,
連繋大家Connecting Others (社交互動 Psychosocial Interactions ) .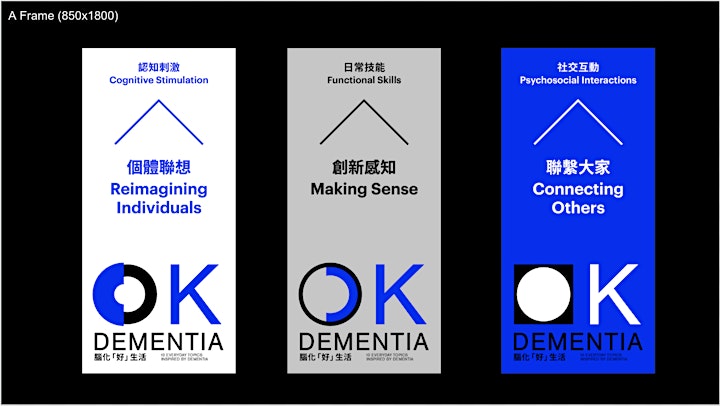 從認知障礙症啟發的十個日常「腦化生活」課題
10 Everyday Topics Inspired by Dementia
創新感知 Making Sense
1. 數快樂 Counting Happiness
2.身觸覺 Awakening Touches
3. 沖涼解話 Decoding Body-cleaning
個體聯想 Reimagining Individuals
4. 搵強項 Finding Strength
5. 砌時光 Assembling Time-Table
6. 共創四季 Co-Creating Four Seasons
聯繫大家 Connecting Others
7. 開口講 Ice Breaker
8. 樂茶具 Social Tea Set
9. 揮浪潮 Wave Index
10. 握手信 Trust Builder
Arrangement to COVID-19
To help ensure public safety, special arrangements and precautionary measures in line with the current restrictions under the Prevention and Control of Disease Ordinance are implemented. Our venues are open with capacity restrictions aligned to the current statutory operating requirements. We also ensure that visitors are gathered in groups of not more than 4 people. You are encouraged to check for specific updates on our website and social media before visiting.
Special Precautionary Measures
Visitors are subject to a temperature check before admission. Visitors with fever symptoms will not be admitted.
Visitors will be requested to fill out a Health Declaration Form before admission.
Visitors should apply alcohol hand sanitisers before admission.
Visitors will need to wear their own masks in the venue.
Eating and drinking inside the venue are not allowed.
Please keep a safe social distance.
A disclaimer note:
In light of the current pandemic situation, the event organiser reserves the right to cancel, postpone or change any details such as dates and formats of all events without prior notice. Please stay tuned to BODW CityProg website and social media for the latest updates. You are encouraged to enquire about individual events with the event organiser before attending.