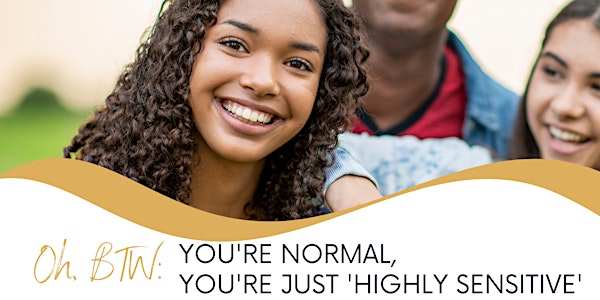 Oh, you're normal: You're Just Highly Sensitive! TEEN WORKSHOP
20% of us are Highly Sensitive People - we feel the world much more deeply- but chances are you have never heard of HSPs: let's change this!
When and where
Location
Our Wellness Community 207 South Tyler Street Dallas, TX 75208
Refund Policy
Contact the organizer to request a refund.
Eventbrite's fee is nonrefundable.
About this event
Did you know 20% of us are "Highly Sensitive People" (HSP)?
Yes, 1 in 5 of people were literally born to FEEL the world much more deeply than others. And the younger we know it's BOTH normal, AND a super power -- the better!
This workshop is open to 13-19 year olds (and yes, you can sign up your teen!).
In this 2.5 hr interactive workshop with fellow teen HSPs we will practice hands-on activities that get you more familiar with high sensitivity (it's not just emotional!) and our adult HSP-experts will share how to make your Sensitivity work FOR you (not against) for the rest of your life!
We were born with a more active nervous system, so it's important to know how to use this gift and adapt to it's challenges...
Wondering if you are Highly Sensitive? You can take this quiz or check with what resonates on this acronym:
D: Deep Processor: Do you find yourself thinking intently about many subjects at once (like you have lots of tabs open on your browser?) and can make a lot of connections to things you know about relatively quickly? (you may be good at trivia!)
O: Overstimulated Easily: We are attracted to stimulation because it makes us feel alive! But we have a narrow time-frame that we can handle it before it overwhelms us and we get overstimulated (do you like ghosting people? Are parties fun until they just NOT?)
E: Empathic and Emotionally Literate: You can feel emotions and vibes in other people, places, and things. You can also distinguish between feelings like anger and disappointment pretty well and can have 5 emotions (or more) at once. (Is it hard to know where your mood is from -- you or others?)
S: Sensitive to Subtleties: You recognize when your teacher got a haircut, can tell if it is going to rain tomorrow, scents bother you, or perhaps tastes entice you (hot cheetos anyone?). Your senses are hyperactive for better and worse...
Sound like you?! Join us to learn how to use this superpower for good!
*Cost is sliding scale between $10-30, choose the price that works best for your household.
PARENTS: You will receive a complimentary "How to (better) parent a Highly Sensitive Teen" online workshop after this event!