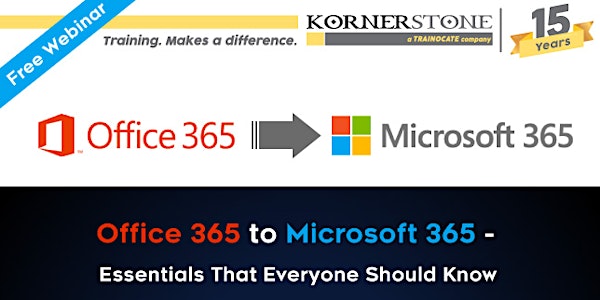 Office 365 to Microsoft 365 - Essentials That Everyone Should Know
This webinar is a free of charge online event that is designed to introduce key Microsoft 365 concepts and services
About this event
Over the past 5 years, Office 365 has been the most popular SaaS in the world and commonly used by most companies and individuals. In 2020, Office 365 was renamed as Microsoft 365 to emphasize their services are not limited to Microsoft Office software family (e.g.: Word, Excel). Especially, Microsoft Teams, the business communication platform that we often use, also belongs to the Microsoft 365 family.
This webinar is open to people from all industries, including users, administrators, and decision makers.
By joining the webinar, you will learn...
1. What is Microsoft 365
2. Microsoft 365 vs. Office 365
3. Business Benefits of Microsoft 365
4. Popular Microsoft 365 journey
Who should attend:
Anyone who wants to know Microsoft 365 and what Microsoft 365 can do
Free Webinar: Office 365 to Microsoft 365 - Essentials That Everyone Should Know
Date: 14 Sep, 2022 (Wed)
Time: 12:30pm – 2:00pm
Language: Cantonese
Venue: Online Event (via ZOOM)
Trainer: Mr. Kidd Ip, Microsoft Certified Trainer
Ticket: Free of charge (First come, first served)