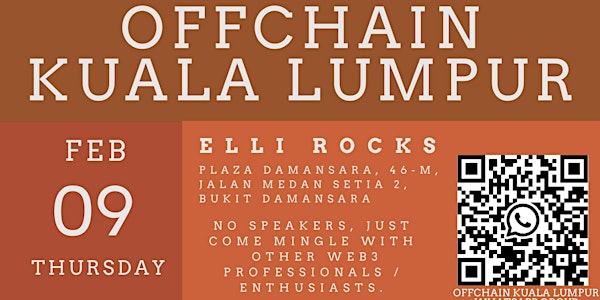 OffChain Kuala Lumpur
No speakers, just come mingle with other Web3 professionals/enthusiasts.
When and where
Location
Plaza Damansara 46-M Jalan Medan Setia 2 Kuala Lumpur, Kuala Lumpur 50490 Malaysia
About this event
The next OffChain Kuala Lumpur gathering is Thursday, February 9th, from at Plaza Damansara (Plaza Damansara, 46-M, Jalan Medan Setia 2, Bukit Damansara). No speakers, just mingle with other Web3 professionals. There is no entrance fee and you pay for your own drink/food.
If you attend the event, you can look for Wilson Tay, a founder of OffChain Kuala Lumpur, when you arrive: https://www.linkedin.com/in/wilsontay/
You can join the OffChain Kuala Lumpur WhatsApp group to stay in touch: https://chat.whatsapp.com/CizWQOnVkMVJ5wpgplGYfi or scan the QR code on the invitation below.
You can see more about the OffChain Global Community at http://offchain.social.