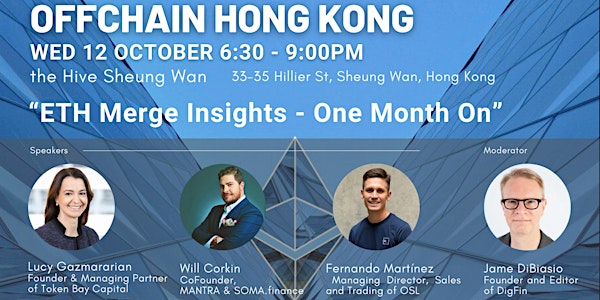 OffChain Hong Kong - ETH Merge Insights - One Mont
Listen to our distinguished panellists' views on the merge through the "surge", "verge", "purge", "splurge" and beyond.
When and where
Location
the Hive Sheung Wan 35 Hillier Street #33 Sheung Wan, HKI Hong Kong
About this event
The first OffChain Hong Kong gathering is Wednesday, October 12th from 6:30 p.m. to 9:00 pm at the Hive Sheung Wan (33-35 Hillier Street, Sheung Wan). We will have a panel discussion on "ETH Merge Insights - One Month On" with the following panlists:
* Lucy Gazmararian - Founder & Managing Partner of Token Bay Capital
* Will Corkin - Co-Founder, MANTRA & SOMA.finance
* Fernando Martínez - Managing Director, Sales and Trading of OSL
The discussion will be moderated by Jame DiBiasio, Founder and editor of DigFin.
As usual, before and after the discussion there will be drinks and mingling with other blockchain enthusiasts. There is no entrance charge and drinks and food are provided by Eleven International, a leading tech and crypto PR agency.
If you have not joined the OffChain Hong Kong telegram group, please do so to stay in touch: https://t.me/+VHmAfLSGui1mZTNl.
You can see more about Eleven International on LinkedIn.
You can see more about the OffChain Global Community at: http://offchain.social