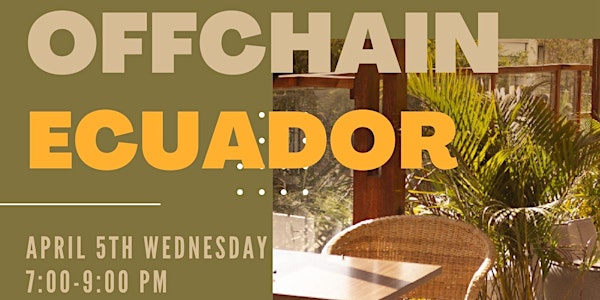 OffChain Ecuador
No speakers. Just come mingle with other Web3 professionals and enthusiasts.
Date and time
Wednesday, April 5 · 7 - 9pm KST
Location
Marieta Barra Cevichera y Quito, Pichincha 170803 Ecuador
About this event
Our next OffChain Ecuador gathering is on Wednesday, April 5th from 7:00 to 9:00 pm at Marieta (Av. La Coruñá y Jacinto Bejarano Quito 170803 Ecuador). NO speakers. Just come mingle with other blockchain and crypto enthusiasts. There is no entrance charge.
If you have not joined the OffChain Ecuador WhatsApp group, please do so to stay in touch: https://chat.whatsapp.com/EpigXCQjThaIaWI4DRHXSx or scan the QR code on the invitation below.
You can see more about the OffChain Global Community at: http://offchain.social
Nuestra próxima reunión es el próximo miércoles 5 de abril en Marieta (Av. Coruña y Jacinto Bejarano, Quito-Ecuador) Este es un evento sin expositores para hacer networking com la comunidad blockchain y Crypto sin costo alguno.
Si no te haz unido aún al chat off chain Ecuador puedes hacerlo cok el siguiente link:https://chat.whatsapp.com/EpigXCQjThaIaWI4DRHXSx
Puedes conocer más de la comunidad global off chain en: http://offchain.social