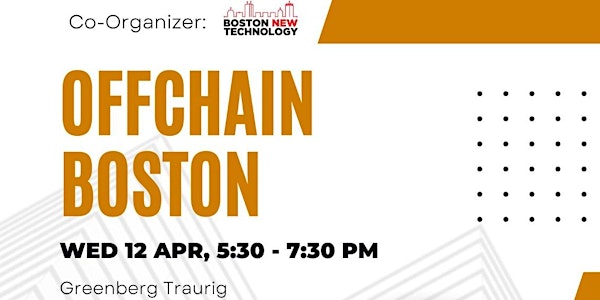 OffChain Boston
"Slow is Smooth and Smooth is Fast - The Road to Web3"
Date and time
Wednesday, April 12 · 5:30 - 7:30pm EDT
Location
Greenberg Traurig, LLP Belvidere/ Dalton #Suite 2000 Boston, MA 02110
About this event
Our next OffChain Boston gathering is Wednesday, April 12th from 5:30 to 7:30 p.m, co-organized with Boston New Technology and hosted by Greenberg Traurig's blockchain and digital asset practice (One International Place, 20th Floor, Boston). Join us for networking and drinks as well as a short talk by Stephanie So of Geeq on "Slow is Smooth and Smooth is Fast:The Road to Web3" followed by mingling with other Web3 professionals and enthusiasts. There is no entrance charge and drinks are provided by Greenberg Traurig.
Talk description: "There is a noisy portion of the crypto and blockchain space that believes we should be speeding into Web3, ignoring the inertia in the institutions, incumbents, and the rest of society who are still trying to understand what that means. Perhaps we should acknowledge initial conditions and work with what we have ... a slower process, but one which is more likely to achieve buy-in."
Stephanie So is the CEO of Geeq, a micro-economist by training, with a background in health and disability policy analysis. Follow her on Twitter @ComplicatedIsOK.
Geeq is a no-smart contracts, multi-chain, Layer 0, secure distributed data system.
If you have not joined the OffChain Boston WhatsApp group, please do so to stay in touch: https://chat.whatsapp.com/KJIN7MIkFZdAtN0qIs9MBX or scan the QR code on the invitation below.
You can see more about the OffChain Global Community at: http://offchain.social
Boston New Technology (http://bostonnewtechnology.com) is a not-for-profit startup, technology, and business community of 28k professionals, whose main mission is to help startups and local businesses launch and grow.
Greenberg Traurig is a global firm with local focus. All its 2650+ lawyers across 46 offices provide business-first, focused counseling with lean, efficient staffing. GT's Blockchain and Digital Asset practice supports clients from STOs and fractionalization to financial regulatory and fintech work to IP and data. Learn more from our host or at gtlaw.com.