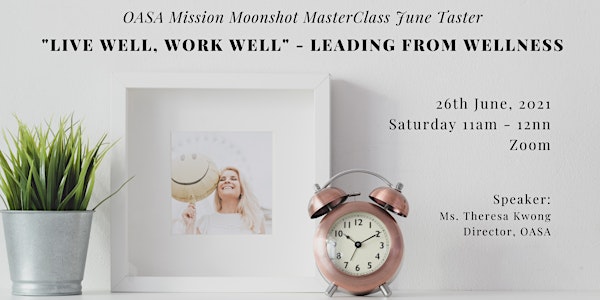 OASA MMM June Taster: "Live Well, Work Well" - Leading from Wellness
"Live Well, Work Well" - Leading from Wellness 26 June 2021, Saturday 11:00 - Noon (HKT) Workshop Leader: Ms. Theresa Kwong
Refund Policy
Contact the organizer to request a refund.
About this event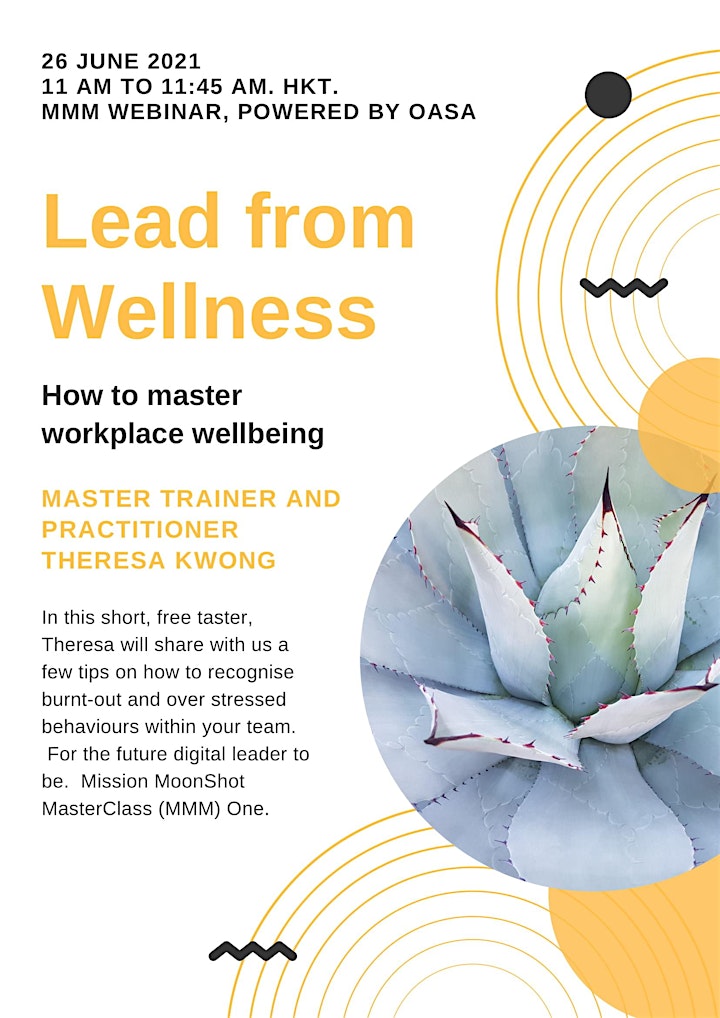 "Live Well, Work Well" - Leading from Wellness
Background
This taster is a very important taster because our heart often guides our mind. It is our heart that can pry open our mindset for mind-sight. This next taster is attempting to heal the heart of others, particularly in the midst of COVID. Unless a leader can understand what they can do to bring wellness to their workplace, forget about transformation to come.
About the Workshop Leaders
Mr. Perry Lam, our Program Leader, has found an insight workshop leader for you, and has organised the next free taster with the Mission MoonShot Program on digital transformation.
Master Trainer Theresa Kwong shall be guiding us through this workshop. She is a certified professional co­-active coach and a registered nurse with a background in health and wellbeing, education and mindfulness. Equipped with an awareness of cross cultural ideas and beliefs about education and its impacts, she understands the strengths and weaknesses of both Asian and Western educational systems. Her professional and personal areas of focus are in positive psychology, meditation, creating mindsets, habits, peak performance and leadership. Theresa is our Head of Internship and we are extremely happy that she's on our side.
Session Objective
In this short hourly and more importantly, free, taster, Theresa will share with us a few tips on how to recognise burnt-out and over stressed behavior within your team. For the future digital leader to be.
The Mission MoonShot MasterClass Series
Come 2021, your company or department must, by now, have a few good moonshot ideas, and that these would be championed by some systems leaders who can bring a new order to things. Within 2021, you would have introduced a proof-of-concept to your boss. Inevitably that solution would have some level of digitalisation. It is not whether you would consider a digital business, but how much and by when. Without the right leader, adequately groomed, any change initiative will fall flat. This is the reality. Mission MoonShot MasterClass is OASA's a homegrown leadership acceleration training program that combines the power of youthful creativity with sensible reality and proprietary innovation approaches. Young executives, working with university students, are challenged to define the barriers which have prevented their organisation from becoming digital. For more information, please visit our homepage at www.oasahk.org.
Webinar Registration
Please sign up by clicking the "Register" link below, we have limited seats for this special taster experience. Priority will be provided to previous registrants of the MMM program, OASA members, and high potentials. To enhance learning at the breakout rooms, attendance is capped at 24 participants.
Will see you us at our Mission Moonshot Masterclass Taster.