黑色電影節:法國黑色電影 對決 美國犯罪電影 Noir Fest: French Film Noir vs American Crime Movies
About this event
前言
「黑色電影」一詞的出現,一般認為是意裔法國影評人連奴法蘭克 (1904-1988)首先採用,主要指四十年代荷里活的犯罪片,例如尊候士頓的《群雄奪寶鷹》 (1941)、比利懷徳的《殺夫報》 (1944) 和候活鶴斯的《智勇無雙》(1946)等片。但事實上,在這之前,法國報章雜誌已經出現 film noir 一詞,話說1938至1939年間,馬塞卡爾納的《霧碼頭》(1937) 和雷諾亞的《衣冠禽獸》(1938),已經被當時的影評人以 film noir 來形容。以我所知,film noir 這個法語詞滙,一直只在法國影評界流行,film noir 被英、美影評人/文化人普遍應用在文章上,應該是上個世紀七十年代之後的事。
英國著名影評人伊安金馬倫於1975年出版的《犯罪電影圖片史》,書內提到《逃犯貝貝》 (1937)、《萬惡黃金》 (1954)、《悍匪大決戰》(1955)、《綫人》(1962)、《獨行殺手》 (1967)、《江湖龍虎鬥》(1970)、《劫寶群英》(1970) 等等法國式犯罪片,只是稱之為 French crime movies, 完全沒有提到 film noir 這個字眼,可見黑色電影這個名詞,在當年的英語地區尚未流行。
我個人是在七十年代後期,為阿倫歌爾勞的《禍水紅顏》(1978)當助導的時候,才對 film noir 這個名詞和這個影片類型有了初步認識。該片的法文原名 Série Noire,直譯是「黑色小說系列」,該書譯自美國作家占湯遜的犯罪小說 A Hell of a Woman, 而法文譯本的書名則是 Des cliques et des cloaques。其實,法國不少「黑色電影」,是改編自美國或英國的犯罪小説,例如杜魯福的《奪命佳人》(1968), 就改編自康奈爾伍里奇的小說,查布洛的《冷酷祭典》(1995)則改編自露絲倫德爾的作品。由於許多美國犯罪小説都被翻譯和收納在這個法文 Série Noire 系列,所以他們改編起來就較為容易。「黑色電影」可以説是較高層次的犯罪電影,比較著重心理描寫,通常有個 femme fatale的角色,即所謂的禍水紅顏,令男主角泥足深陷,難逃法網,甚至賠上性命。
四、五十年代的確是犯罪片的黃金時期,尤其是荷里活,幾乎所有吃得開的導演,如果不拍有關二次大戰的戰爭片,都一定拍過犯罪片或警匪片。殿堂級導演如候活鶴斯、森姆富勒、拉奧華爾殊、羅拔淮斯、威廉韋勒等等,都拍過不少後來被傳誦一時的犯罪電影。美國導演們改編英美犯罪小説就更為方便,例如尊候士頓的《群雄奪寶鷹》(1941)改編自達許漢密特,候活鶴斯的《智勇無雙》(1946)改自雷蒙陳德勒,寇比力克的《火拼黑地獄》(1956)改自拉奴懷特,比利懷徳的《殺夫報》(1944)和米高寇蒂斯的《慾海情魔》(1945)都改自詹姆斯凱恩。
今次籌劃已久的專題節目,總共放映八部法國黑色電影,以及八部美國犯罪電影。當中最早的一部犯罪片經典,是1931年梅榮李萊導演的《小霸王》,那時荷里活剛進入有聲片時期不久,眾演員雖然不脫默片式誇張演技,但其劇情和人物的可觀性,絕對令人振奮,梅榮李萊堪稱荷里活犯罪片的開山祖師。另一部比較早期的犯罪片,是法國著名導演朱里安杜維威在1937年拍攝的《逃犯貝貝》。影片以當年仍是法國殖民地的阿爾及利亞為背景,映像風格看得出是受到德國表現主義電影的影響,也令人想起數年後以摩洛哥卡薩布蘭卡為背景的荷里活經典《北非諜影》(1942), 後者其實也屬 film noir 類型,只是其浪漫愛情更令人刻骨銘心,因而不多久便被視為愛情片的經典傑作。
其餘絕不容錯過的犯罪片,包括法國導演積葵貝克的《萬惡黃金》,克魯索的《死亡邊緣》 (1953),雷納克萊蒙的《怒海沉屍》(1960),原籍希臘的朱爾斯達辛在法國拍攝的《悍匪大決戰》(1955),以至希治閣的《諜網情鴛》(1946),佛列茲朗的《芝加哥剿匪戰》(1953),寇比力克早期的《火拼黑地獄》(1956),和奧遜威爾斯的《歷劫佳人》 (1958) 等等。幾乎可以肯定地說,這些超過半世紀前的「黑色電影」,全部都經得起時間的考驗,是藝術性和娛樂性兼備的不朽傑作。
節目策劃 | 黃國兆
Foreword
The first appearance of the term "film noir" is generally attributed to the Italian-born French film critic Nino Frank (1904-1988), who first used the term to refer to American crime movies made in the 1940s, such as The Maltese Falcon (1941) by John Huston, Double Indemnity (1944) by Billy Wilder, and The Big Sleep (1946) by Howard Hawks. But before that, the term "film noir" had been used in French newspapers and film reviews to describe French films such as Quai des Brumes (1937) by Marcel Carné and The Human Beast (1938) by Jean Renoir, etc. As far as I know, since the 1930s the French term "film noir" has been in use mostly in the French circle of critics. It wasn't until the 1970s did this term become widely used by American and English film critics and intellectuals. "Notes on Film Noir", written by Paul Schrader in 1972 for the publication Film Comment, was an influential article that spearheaded the widespread use of the term in English-speaking territories.
Yet the English use of the term was initially reserved for American films. The famous English film critic, Ian Cameron, in his 1975 publication A Pictorial History of Crime Films, mentioned many French gangster movies such as Pépé Le Moko (1937), Hands Off the Loot (1954), Les Doulos (1962), Le Samouraï (1967), Borsalino (1970), Red Circle (1970), and he never did once use the term "film noir". Instead, he simply called them "French crime movies".
I personally got familiar with the term "film noir" only in the late 70s, when I served as assistant director to Alain Corneau for the film Série Noire (1979). It is an adaptation of Jim Thompson's novel A Hell of a Woman, but the French title of the film Série Noire literally means a collection of detective novels either from France or translated into French from American or English literature. The French version of Jim Thompson's novel has been renamed Des cliques et des cloaques (meaning "cliques and cesspools" in English). In fact, many French noir films are based on American or English crime novels. François Truffaut's The Bride Wore Black (1968), for example, is adapted from Cornell Woolrich's novel and Claude Chabrol's La Cérémonie (1995) is based on Ruth Rendell's novel A Judgement in Stone. Since many American crime novels have been translated into French and included, it is relatively "easy" for the French directors to make them into movies. We probably can say that "film noir" is a crime movie of higher artistic level, with in-depth psychological study of the main characters, and there is usually a "femme fatale" who would drive the hero crazy, cause him deep trouble, or even put an end to his life.
The 1940s and 50s period is a Golden era of crime movies, especially in Hollywood. Almost all the important directors of this period had made crime films or gangster movies. Pantheon directors like Howard Hawks, Samuel Fuller, Raoul Walsh, Robert Wise and William Wyler had made many crime movies which later became celebrated classics. For American directors to adapt crime novels from the English language into great American films seems more logical and convenient. To name a few, John Huston's The Maltese Falcon (1941) is based on Dashiell Hammett's novel, Stanley Kubrick's The Killing (1956) is adapted from Lionel White, and both Billy Wilder's Double Indemnity (1944) and Michael Curtiz's Mildred Pierce (1945) are based on novels by James M Cain.
The Noir Fest film programme will present eight noir films from France and eight crime movies from the States. The earliest classic can be traced back to Little Caesar, directed by Mervyn LeRoy in 1931, when Hollywood has just entered the sound era. It may feature exaggerated performance not uncommon for silent film actors, but the story and the characters in the film are most impressive, and Mervyn LeRoy deserved the title Granddaddy of Hollywood Gangster Movies. Another relatively early classic is Pépé Le Moko, produced on the other side of the Atlantic and directed by the veteran French director Julien Duvivier in 1937. With the French colony Algeria as background, its visual style was greatly influenced by German Expressionism. It also relates to another classic set in northern Africa, the Hollywood film Casablanca (1942), set in Morocco while also stylistically belonging to the film noir category, but, because of its affecting love story, soon became a great film categorized as romance classic.
Other films that shouldn't be missed include, on the French side, Hands Off the Loot (1954) by Jacques Becker, The Wages of Fear (1953) by Henri-Georges Clouzot, Purple Noon (1960) by René Clément, Rififi (1955) by American director Jules Dassin when he was in exile in Paris. On the American side, we have Alfred Hitchcock's Notorious (1946), Fritz Lang's The Big Heat (1953), Stanley Kubrick's early work The Killing (1956), and Orson Welles' Touch of Evil (1958). You can be reassured that all these great classics – made more than half a century ago – not only will stand the erosion of time, but are still very entertaining and certainly of high artistic quality.
Freddie Wong | Curator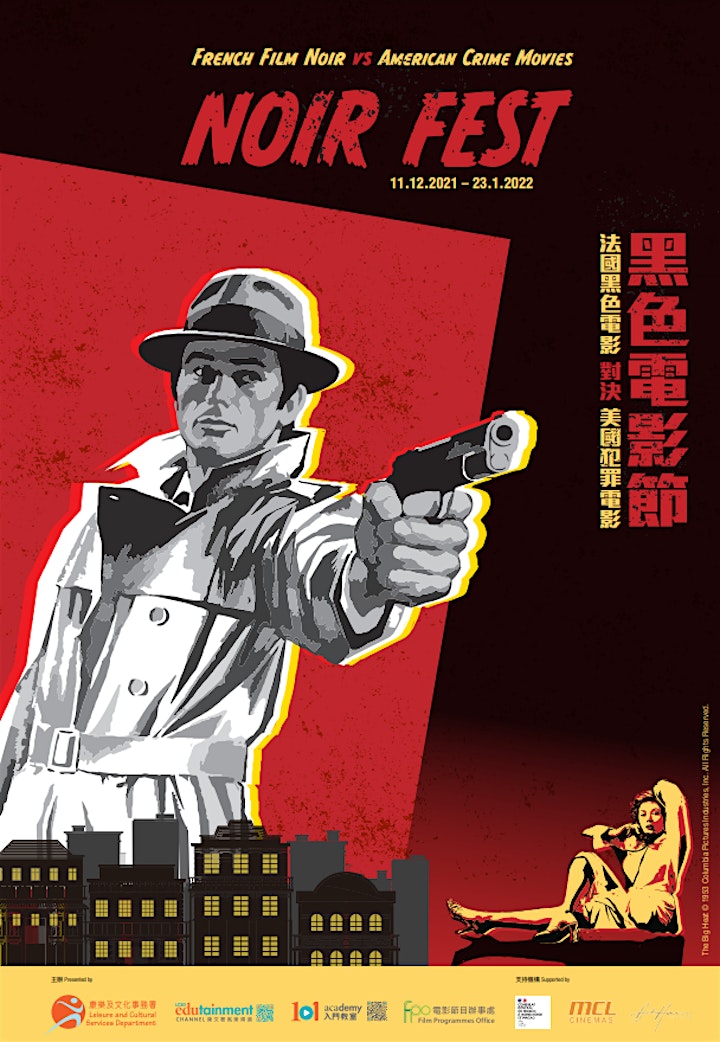 Organiser of 黑色電影節:法國黑色電影 對決 美國犯罪電影 Noir Fest: French Film Noir vs American Crime Movies