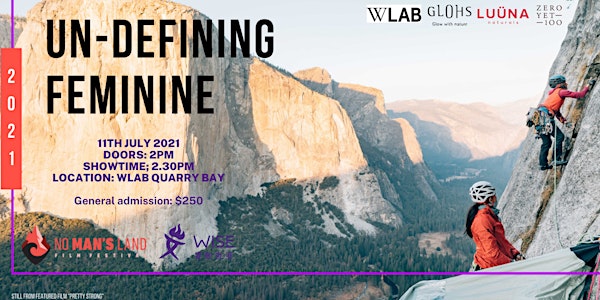 NO MAN'S LAND FILM FESTIVAL - Outdoor Adventure Film Screening Fundraiser
Location
WLAB
196-198 Tsat Tsz Mui Road
Quarry Bay, HKI
Hong Kong
WISE HK brings No Man's Land Film Festival to Hong Kong. Movies include: The Long Haul, Dani Burt, Lady First, Pedal Through...
About this event
WISE HK invites you to join us on 11 July for an inspirational film festival fundraiser. Admission fees will be used to support our programs.
About WISE HK
We champion sports for women and girls in Hong Kong. Through sports, we educate, empower and connect women and girls to lead active, meaningful and self-fulfilled lives. Sports is simply the tool to achieve gender equality and a diverse and inclusive Hong Kong. We are a registered charitable institution (IR91/16449) under Section 88 of the Inland Revenue Ordinance in Hong Kong.
How your admission fees helps us
We can further our mission to:
Educate why sports matter to women and girls
Empower by combining sporting opportunities with educational content
Connect women and girls in and through sports to raise our value and visibility
Our core activity areas in 2021:
Deliver sports activities for women and girls from marginalised communities in Hong Kong
Sustain our Sports Leadership Program targeted at youth
Start our sports-focused mentoring program
No Man's Land Film Festival Expands in Efforts to Un-define Feminine
Kicking off their sixth year of operations, No Man's Land Film Festival is breaking down national and international borders with their 2021 Virtual Flagship Festival — aimed to become an international voice for those of underrepresented genders in adventure, sport and film, including women, non-binary folks, and trans men.
No Man's Land Film Festival (NMLFF) is the premier all-women adventure film festival based out of Denver, Colorado and on tour internationally. In its sixth year, No Man's Land Film Festival has reached audiences in nearly every U.S. state and has breached international borders with events ranging from Canada to Australia. For five years prior, NMLFF has celebrated the full scope of female athletes and adventurers, looking to un-define what it means to be a woman in adventure, sport and film. NMLFF champions women with grit, hustle, determination, and boundless passion, investing them with the respect, support, and media recognition they deserve. Through human collaboration, No Man's Land strives to continue implementing and inspiring change in the outdoor, sport and film industries, while cultivating a deep interest in exploring the vastness of the planet from a woman's point of view and other identities outside of the gender binary, including non-binary folks and trans men, as well. The NMLFF mission transcends the films presented, acting as a platform for powerful and progressive movement in the outdoor industry.
With their manifesto: "We are allies. We are sunsets and alpenglow, dangerous riptides and endless singletrack. We are coffee-fueled optimists who may dance-all-night into an alpine start and laugh too loudly at jokes that no one else understands. But we are more than that. We are the vastness to the mountains, we are the horizon to the sea. We are global and there is no end to our possibility. We are rugged and determined. We are forged from a fire of passion and grit; we are nurtured by adventure. We will not be denied. We celebrate our voices and our bodies: their strength, their power, their ability to move mountains or, at the very least, to climb them to the top. We are unique. We are individual. We are human. We don't draw lines, because everyone defines their own," No Man's Land continues to champion women athletes, storytellers and creatives who find inspiration and motivation through adventure, sport and film.
Moving forward, NMLFF celebrates and uplifts gender diverse identities and is committed to creating a safe and inclusive space that champions the experiences of women, non-binary people, and trans men. Being inclusive requires more effort and understanding of social constructs in order to break them down and un-define what it means to be feminine in the outdoor arena.
While the name may sound exclusive, No Man's Land encourages all genders to attend. Beyond the No Man's Land's mission, the films are a strong curation and representation of true outdoor adventure film.
Event film Rundown:
The Long Haul
Dani Burt
Lady First
Pedal Through
Surf Girls Jamaica
Accidental Activism
Superbloom
********************
Please note: Due to COVID-19 protocol and WLAB our venue sponsor being a members only space, when you register and purchase a ticket, prior to the event date, we need to notify them who's joining the event. In light of this we will need to pass them your contact information such as name and email address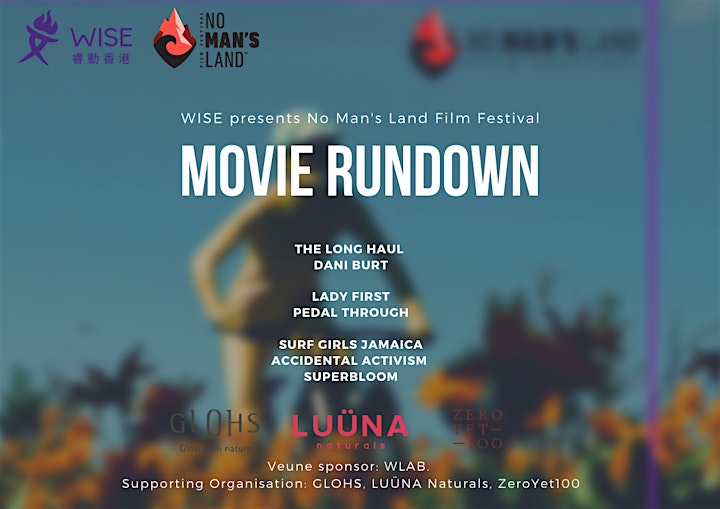 Venue Sponsor:
WLAB is a community of innovative change makers passionate about co-creating a happier and healthier Hong Kong. WLAB's toolbox combines design thinking, open innovation and human-centric design based on The DO's unique expertise and proven methodology. A community and innovation lab we support change-makers, startups, intrapreneurs, entrepreneurs, innovators and anyone who wants to take action in contributing to a sustainable and purposeful future.
Social media handling is WLABCOMMUNITY (FB, IG, Linkedin and youtube)

Supporting organisations:
GLOHS
GLOHS is a homegrown natural and organic skincare and health brand offering high quality and effective products, as well as a pathway towards a healthy lifestyle via its community network with blogs, talks and workshops. Ingredients are sourced from small farms globally with high ethical standards, preferably using traditional extraction methods, thus ensuring potency. Products are handcrafted in small batches in Canada.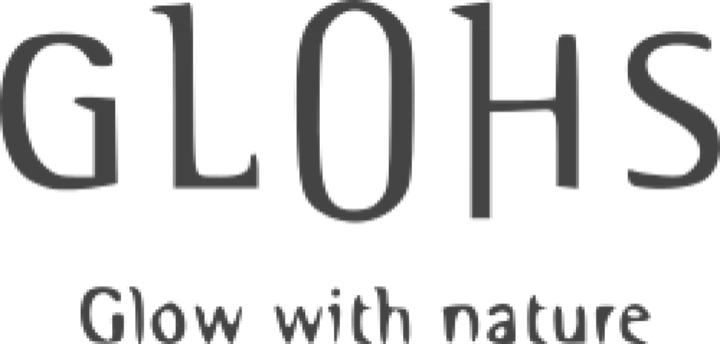 LUÜNA Naturals:
LUÜNA is a purpose-driven period care company built in Asia by a 100% female leadership team. Our mission is to make periods better through conscious products & programs that tackle menstrual stigma.
Our line of award-winning period care uses organic & skin-loving materials which are healthier for our bodies and preferred by mother nature too. Beyond this, our initiatives shift policy around menstrual health to promote gender equality for all.
祼月是一間100%由女性領導及旨在影響亞洲社會的月經護理公司。我們的使命是鼓勵大眾有意識地選用健康經期護理產品、舉辦月經研討會和工作坊以消除社會對月事的禁忌。
我們備受讚譽的經期護理產品只採用對身體和環境健康的親膚有機棉花。 除此之外,我們致力推進改善月經健康的政策以促使性別平等。

ZeroYet100:
ZeroYet100 is founded on the principle that natural is better. Our products are formulated with ingredients derived from nature with potent innate properties. Thus, nothing toxic yet 100 percent effective.
Our line is free of nasties (i.e. toxic and harmful chemicals) and our ingredient list is transparent and pure.
The all-natural products are personally tested by co-founders, Anita Patel and Sheetal Avlani before they get housed in aluminum and glass (recyclable) or plastic (up-cyclable) packaging. The products are made ethically throughout, down to the plastic-free labels.
Our gender-neutral products are suitable for children, pregnant women, the elderly, and everyone in between.
ZeroYet100 aims to empower you to take the best care of yourself, your loved ones, and the world around you. No compromises required.