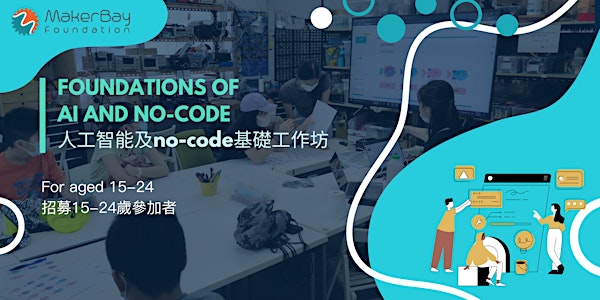 人工智能及No-code基礎工作坊 Foundations of AI and No-code
2小時網上工作坊| 主題: 人工智能及No-code的基本認識 2hrs online workshop | Theme: Introduction to AI and No-code
About this event
覺得AI同寫網頁/APP好難? 原來唔洗識得寫code都可以整到一個屬於你嘅page同 App!你仲可以訓練你嘅人工智能系統,將佢加入網頁/手機app到,幫手解決生活嘅問題!如果你嘅年齡係介乎15至24歲,咁你就可以參加我地嘅人工智能及No-code網上工作坊啦 ,仲係費用全免㗎!
喺人工智能及No-code基礎工作坊入面我地會同你一齊探討四大重點:
📌 什麼是人工智能和No-code?為什麼你要學習?
📌 不同類型的人工智能以及它如何影響就業市場
📌 No-code市場的增長以及如何入行
📌 探索不同的No-code工具
*接受政府資助的人士可優先參加
嚟緊我哋會有更多關於AI同No-code嘅工作坊, 如果對AI同No-code有興趣,或者想學習多一項技能嚟提升自己嘅市場競爭力, 記得留意我哋嘅網頁、Instagram同Fcebook page!
*成功報名的朋友將會收到MakerBay Foundation發出的電郵或Whatsapp訊息確認。請留意於Eventbrite完成報名後並不代表成功報名。
Writing a webpage/App is hard that requires technical background? Actually, you don't have to learn coding to create your own website and mobile app! If you are aged between15 to 24, you can join our free online introductory workshop! If you are curious about how AI and No-code work, this is a chance to learn for free!
In this Foundation of AI & No-code workshop, you will learn about:
📌What is AI & No-code? Why it is important to learn?
📌Different types of AI and how they impact the job market
📌Growth of the No-code market and how to start a career in the field
📌Exploration of different No-code tools
*A higher priority will be given to participants who are receiving assistance schemes from the government
We are going to organize more workshops about AI and No-code in the coming months. If you are interested in learning in-depth content about AI and No-code, or simply want to acquire a new skill for job hunting and work, please stay tuned to our website, Instagram and Facebook page for the updates!
*Successful applicants will receive a confirmation email or Whatsapp message from Makerbay Foundation. Please note that completing the registration on eventbrite does not imply enrolling in the workshop automatically.