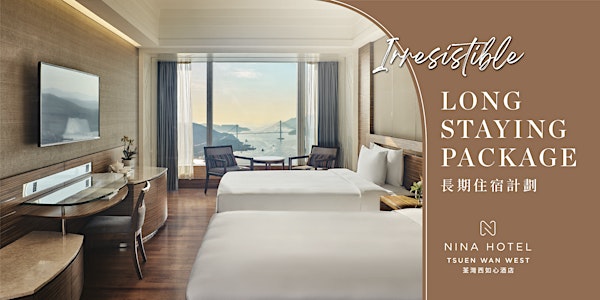 Nina Hotel Tsuen Wan West July Long Staying Open Day 荃灣西如心酒店7月「長期住宿開放日」
Location
Nina Hotel Tsuen Wan West
8 Yeung Uk Road
Tsuen Wan, NT
Hong Kong
Meet our specialists for a guided tour and discover the all-rounded facilities along with an array of enticing perks.
About this event
誠邀您蒞臨荃灣西如心酒店「長期住宿計劃」開放日,體驗如家般的舒適,每天從特大柔軟睡床上開展,隨心情躍進水中暢泳,或回到舒適私人空間,享受自在慢活時光。立即預約以參觀酒店設施,並尊享一系列開放日獨家禮遇。
Planning a long stay away from home? Nina Hotel has got you covered, whether you're in the mood to chill in the outdoor pool, or kick back at your cozy space. Best of all? You'll wake up in bliss on our super-soft mattress the next day! Register now for a guided tour and enjoy a wide of enticing perks on the open day.
Exclusive privileges 精選禮遇包括:
月租優惠計劃由港幣$16,200起 From HK$16,200 net up for 30 consecutive nights stay
獲贈Nina Patisserie 預付卡飲品卡以兌換10杯精品咖啡 (價值港幣$300) Receive a prepaid card for drinks valued at HK$300 to redeem 10 cups of coffee or tea at Nina Patisserie
無限次使用酒店健身室和泳池^ Complimentary use of Fitness Centre and swimming pool
每週兩次客房清潔服務 Housekeeping service twice a week
免費享用Wi-Fi及本地電話 Complimentary in-room Wi-Fi internet access and local calls
Open Day Details 開放日詳情:
Date 日期 : 2022年7月8至10日 | Jul 8 – 10, 2022 (Fri – Sun)
Time 時間 : 12:00pm – 7:00pm
Address 地址 : Nina Hotel Tsuen Wan West, 8 Yeung Uk Road, Tsuen Wan (5-min walk from Tsuen Wan West Station Exit D) 荃灣楊屋道8號荃灣西如心酒店 (由荃灣西港鐵站D出口步行5分鐘直達)
The offer is only applicable for on-site confirmed booking made on Jul 8-10, 2022 (both dates inclusive). 此優惠僅適用於2022年7月8至10日確認的預訂。
The offer is only apply to bookings with staying period from Jul 8, 2022 - June 30, 2023. 此優惠僅適用於2022年7月8日至2023年6月30日期間入住。
Offer cannot be used in conjunction with other offers, discount or privileges. 此優惠不可與其他優惠、折扣或禮遇同時使用。
All room rates and privileges are subject to change without any prior notice. 房價或優惠如有更改,恕不另行通知。
Room change may be arranged as the Hotel goes through its room enhancement project. subject to availability. 客人或須因酒店優化工程而更換房間,視乎房間供應而定。
In the case of any disputes, Hotel's decision shall be final. 如有任何爭議,酒店保留最終決定權。