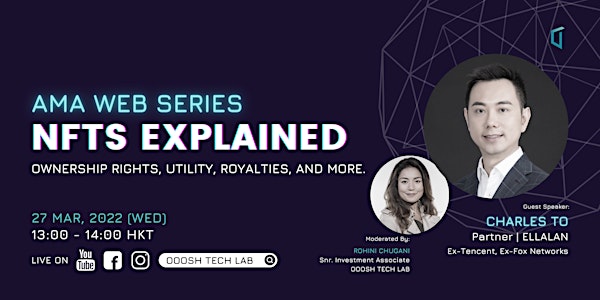 NFTs Explained - Ownership Rights, Utility, Royalties, and More
NFTs Explained - Ownership Rights, Utility, Royalties, and More
About this event
For our next live AMA session, we will be discussing NFTs and what it means for you as an owner.
NFTs are exchanging hands for pretty large denominations. With this in mind, we'll be covering what rights you might have as an owner of an NFT, what the implications are for royalties, the complexities around protecting your rights in the Hong Kong jurisdiction, and any ways that you can protect your ownership in cases of hacking or theft.
Speaker Bio
Charles To is an advisor and shareholder of multiple startups and Web3 projects including Sandbox VR, was the formal legal counsel for Tencent, and is currently Partner of legal firm, ELLALAN. His keen interest in helping to build the future combined with his expertise in the legal industry unearths interesting insights behind the burgeoning NFT and Web3 space. While globally we are continuing to tackle these interesting legal challenges as we build our future, Charles is joining us during our next AMA to share his thoughts and advice. Charles is also a mentor within the OTL network.
Who is this for?
NFT enthusiasts, creators, or owners.
About Ooosh Tech Lab
Ooosh Tech Lab is an Integrated Venture Capital firm focused on empowering and de-risking scalable, disruptive startups across South East Asia. Ooosh Tech Lab offers a wide range of services to the startup ecosystem, including an investment fund, an incubator, co-working spaces, investment banking services, and growth marketing consulting. As a team, they have served over 189 local & international companies, including Tech Unicorns & MNCs.
To learn more about how we help startups, visit: https://direct.me/oooshtechlab.