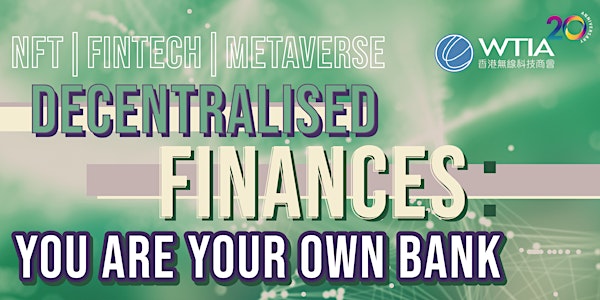 NFT | FinTech | Metaverse Series : Workshop #3
NFT | FinTech | Metaverse Series - Decentralised Finances: You are your own bank
About this event
NFT| FinTech | Metaverse Webinar - Decentralised Finances: You are your own bank
ONC Lawyers x Hoplite Technology x Clema Risk Solutions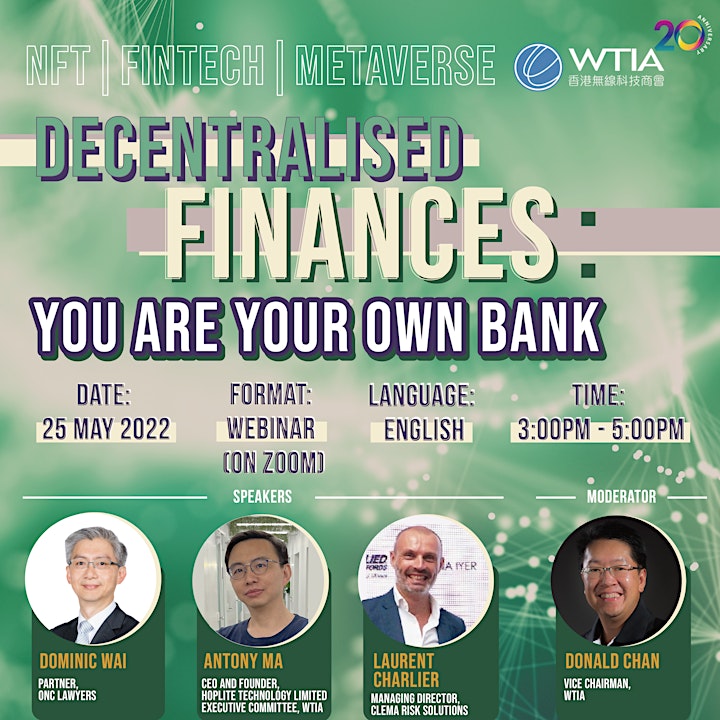 Decentralized Finance (DeFi) is a multi-billion-dollar movement involving several intermingled concepts. At its core it is blockchain-based and uses an immutable, trustless computer network that verifies transactions without human intervention. Most of the Ethereum-based decentralized exchange (DEX), which allows people to swap tokens that run on the Ethereum network.
Individuals can also earn money on the platform by providing liquidity by locking up tokens they own; others can then borrow the tokens and pay interest to the liquidity providers. All of this is using smart contract code without human intervention. That means you could be able to be your own bank.
Join us to explore the legal issues and security with Decentralised Finances, Let's dive in!
Date: Wed, 25 May 2022
Time: 3:00pm – 5:00pm (GMT+8)
Format: Online via Zoom
Language: English
**Free Admission
Speakers:
Mr. Dominic Wai
Partner, ONC Lawyers
Before joining the legal profession, Dominic has worked in the banking sector and as well as in the Independent Commission Against Corruption (ICAC).
Dominic's practice focuses on advising clients on matters relating to anti-corruption, white-collar crime, law enforcement, regulatory and compliance matters in Hong Kong, including advice on anti-money laundering. He also handles cases involving corporate litigation, shareholders' disputes and insolvency matters, defamation cases, domestic and international arbitration cases, cybersecurity, data security and privacy law issues, competition law matters, e-Discovery and forensic investigation issues as well as property litigation.
Mr. Antony Ma
CEO and Founder, Hoplite Technology Limited
Executive Committee, Hong Kong Wireless Technology Association
Antony, CEO of Hoplite Technology Limited, has extensive experience on audit and cyber security experiences in banking, telecom and public sector. He is a member of ISO Sub Committee 27 and has been participating in ISO standard development including 27001 and other standards. In Hong Kong, he served as the conveyor of Hong Kong Government CIO Cloud Security Expert Group in 2013, which develops guidelines for SME on data protection. He was also the founding Chairman of Cloud Security Alliance Hong Kong & Macau Chapter. Antony was a key member in developing Singapore National Standard Multi-Tier Cloud Security Standard (MTCS), first public cloud security standard in Singapore
Mr. Laurent CHARLIER
Managing Director, Clema Risk Solutions
After a law degree and a master in insurance law and risk management from University Montesquieu in Bordeaux, Laurent has worked for many renowned insurance players such as Gras Savoye in France, Willis Towers Watson in Eastern Europe and AXA in Asia.
Since 2019, Laurent has decided to join the Clema Risk Solutions team to manage and develop their business in Hong Kong. Clema Risk Solutions is a boutique insurance intermediary with offices in Singapore and Shanghai advising small and medium size companies for their needs in insurance and risk management. Our focus is to help clients to design efficient insurance program build on trust, innovation, knowledge, and technology.
Moderator:
Mr. Donald Chan
Vice Chairman, Hong Kong Wireless Technology Industry Association
Donald is the General Manager as well as one of the founders of Cherrypicks, a regional leader in mobile technology and eCommerce specializing in smart city, augmented reality, artificial intelligence, eWallet and location intelligence.