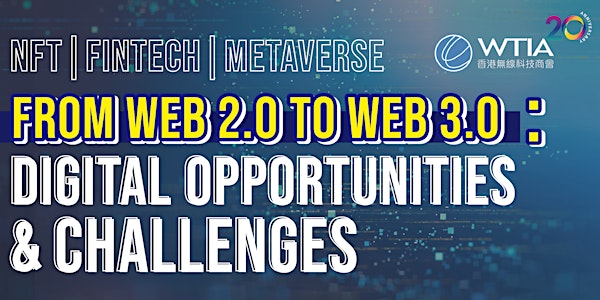 NFT | FinTech | Metaverse Series : Workshop #2
NFT | FinTech | Metaverse Series - From Web 2.0 to Web 3.0: Digital Opportunities and Challenges
About this event
NFT| FinTech | Metaverse Webinar - From Web 2.0 to Web 3.0: Digital Opportunities and Challenges
Mastercard x Cyberport x AsiaPay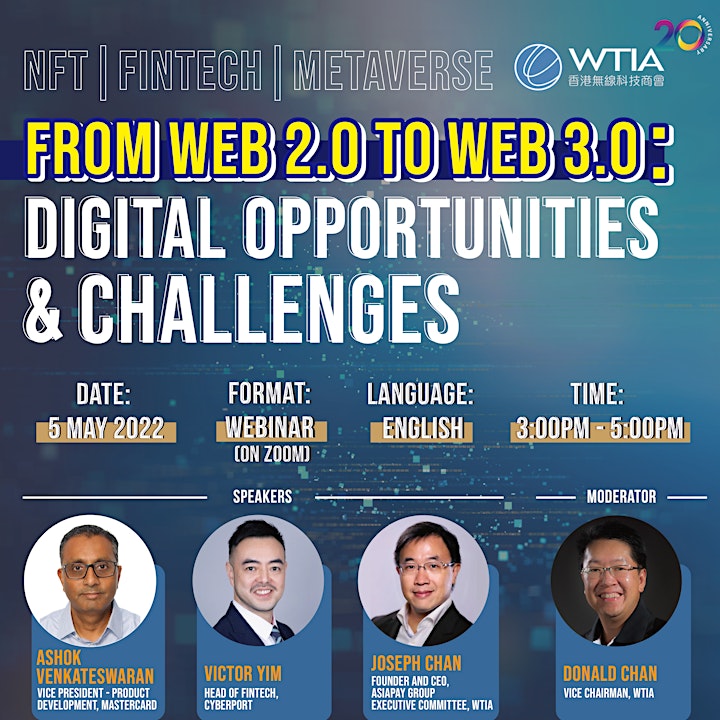 The wave of FinTech evolution worldwide changed drastically over time to become a blistering opportunity. The evolving potential of FinTech forced the traditional banking systems and financial service companies to follow a revolutionary path which leads to the new era of the digital world. The dramatic transformation of the World Wide Web triggered Web 3.0, powered by technologies like artificial intelligence and machine learning, reshaping the financial services business and operating model at large filled with decentralization.
Join us to explore the disruptions of the digital opportunities and challenges from Web 2.0 to Web 3.0, Let's dive in!
Date: Thu, 5 May 2022
Time: 3:00pm – 5:00pm (GMT+8)
Format: Online via Zoom
Language: English
**Free Admission
Speakers:
Mr. Ashok Venkateswaran, Vice President - Product Development, Mastercard
Ashok leads the Blockchain and Digital Assets Practice for APAC region. In this role, he works closely with Mastercard clients to develop a digital currency and blockchain strategy and product roadmap. He has deep understanding of the digital currency ecosystem and its need to be interoperable to current environments. Prior to Mastercard, he led the Customer Experience and Digital Strategy practice for EY Singapore focusing on Banking and Capital Markets.
Mr. Victor Yim, Head of FinTech, Cyberport
Victor has over 20 years of experience in the tech industry and he has held senior positions with different multinational corporations, including TransUnion, Experian, Nice Actimize, SAS Institute and IBM.
Victor holds a Bachelor of Engineering in Computer Engineering from University of Hong Kong and he is pursuing his PhD in HKU focus on Regtech application of AI.
Mr. Joseph Chan, Founder and CEO, AsiaPay Group, Executive Committee of WTIA
Mr. Joseph Chan, Chief Executive Officer of AsiaPay, founded the company in August 2000. He spearheaded the company and product development together with his management team, to become one of the most successful electronic payment service and technology company in Asia, with operations covering 16countries.
Through successive positions in banking and finance industries, Joseph has consolidated his expertise and experience in strategic planning, management and implementation of financial, electronic banking, Internet and mobile product services and systems in Asia. He has been an active keynote and industry speaker in FinTech n e-Payment conferences across Asia.
Moderator:
Mr. Donald Chan, Vice Chairman of Hong Kong Wireless Technology Association
Donald is the General Manager as well as one of the founders of Cherrypicks, a regional leader in mobile technology and eCommerce specializing in smart city, augmented reality, artificial intelligence, eWallet and location intelligence.