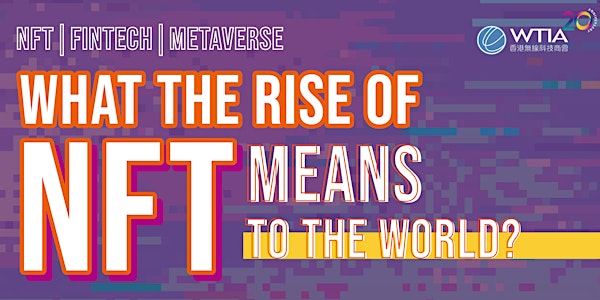 NFT | FinTech | Metaverse Series: What the Rise of NFT Means to the World ?
NFT| FinTech | Metaverse Webinar: What the Rise of NFT Means to the World ?
About this event
NFT| FinTech | Metaverse Webinar: What the Rise of NFT Means to the World ?
HKUSpace Art Collecting Alumni Association x UDomain x Pictta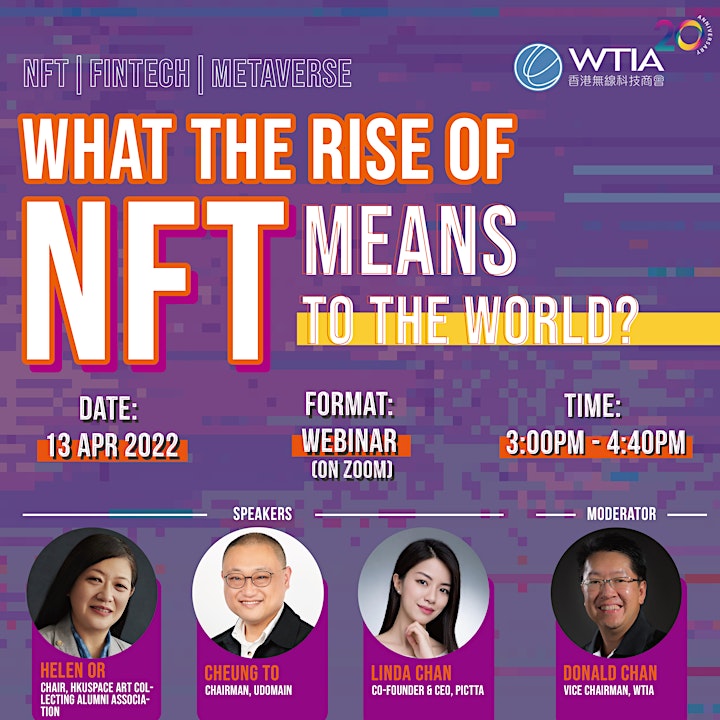 As technology continues to advance at an exponential rate and becomes increasingly intertwined with our daily lives, it should be no surprise that non-fungible tokens (NFTs) are exploding in popularity and sales volumes. In fact, Global sales volumes of NFTs reached $10.7 billion in the third quarter of 2021, What the Rise of NFT Means to the World ?
Join us to explore exploring the disruptions of NFT from the perspective of business innovation and the impact of Digital Art and NFT on the markets, Let's dive in!
Date: Wed, 13 April 2022
Time: 3:00pm – 4:40pm (GMT+8)
Format: Online via Zoom
Language: Cantonese
**Free Admission
Speakers:
Ms. Helen Or, Chair of HKUSpace Art Collecting Alumni Association
Helen Or is a strategy consultant by profession, computer engineer by training and artist at heart. From the age of six to sixteen, she thought she would become an artist, but fate was such that she studied Computer Science at National University of Singapore in 1990. She worked in the IT industry for a while and subsequently pursued her MBA at INSEAD France in 1994. She has been working as a strategy consultant since. Art continues to be her passion. She now practices as a freelance artist, working with the digital medium.
Mr. Cheung To, Chairman of UDomain
In 1998, Cheung To founded UD, the first-generation of IT and network company in Hong Kong and is now transformed as a blockchain solution provider.
As an early investor in Bitcoin, Cheung believes in Bitcoin stems from its decentralization, and a YouTube Channel was established in 2021 to share his views on the development of cryptocurrency and blockchain.
Ms.Linda Chan, Co - founder & CEO of Pictta
Linda is a NFT smart contract developer and serial entrepreneur. She has experience in the DeFi, NFT and metaverse projects, including NFT marketplaces, PFP collection launch, metaverse, etc. She advised and sold NFT and metaverse collections valued at over US$5 million since 2020.
Moderator:
Mr. Donald Chan, Vice Chairman of Hong Kong Wireless Technology Association
Donald is the General Manager as well as one of the founders of Cherrypicks, a regional leader in mobile technology and eCommerce specializing in smart city, augmented reality, artificial intelligence, eWallet and location intelligence.