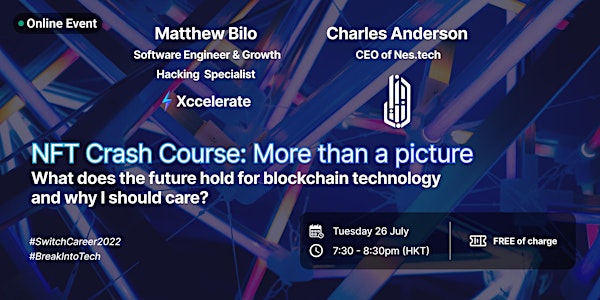 NFT Crash Course: More than a picture
Let's set aside the cliché assumptions about NFTs and dive into the possibilities it can offer.
About this event
You're probably wondering, do we need another discussion on NFTs? How many more wannabe ape projects do we need to tolerate? Hasn't the NFT market been flatlining? Why should I still care at this point? Well we'll tell you why.
We'll discuss:
Part I
NFTs are digital assets with unique ownership marks. And guess what, there are a lot more industries that could benefit from digital validation. Think of a scenario where a contract or an agreement is involved, right there is an opportunity to leverage blockchain technology. This digital data can store records of ownerships, transfers and sales. With fundamental knowledge on NFT technology, you can start implementing greater ways to deliver products or services at the workplace. Let's set aside the cliché assumptions about NFTs and dive into the possibilities it can offer.
Understand how NFTs are built
We mostly think of NFTs as digital cartoons, what else can NFTs do?
Career as a developer in the world of Web 3
What skill sets you need to thrive as a Web 3 Developer
Speaker: Matthew Bilo, Software Engineer & Growth Hacking Specialist from Xccelerate
Part II
NFT's better being described as 'data-as-an-asset' which, provided sufficient forms of identity and control attributions being in-place, permit a distributed form of what we like to call 'micro-capitalism'. Looking at a secured methodology of first unique data attribution accounting, control, real world implementation (e.g. ticketing, media consumption, etc.), then across to the forms of more complex data sales which have the potential to disrupt a broad set of intermediaries or 'middle-men' across multiple verticals. Alternatively, would be open to narrow down examples and conversations to more tangible examples like artwork sales, tokenization, fractional assets or the like.
Speaker: Charles Anderson, CEO of Nes.tech
Who is this session for?
The session is ideal for anyone curious about what NFT/ blockchain technology can offer in the future, looking to pursue a career in the tech industry or simply need conversation materials.
Our upcoming courses: