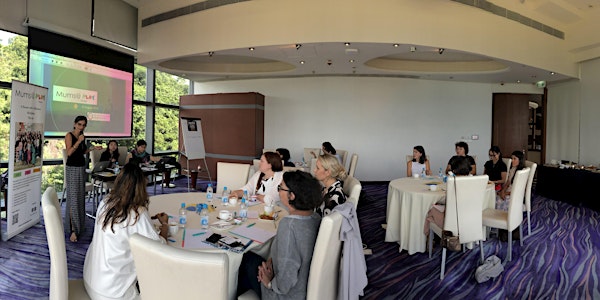 Networking with Breathwork
A rejuvenating networking meet for women entrepreneurs
When and where
Location
the Hive Sheung Wan 33-35 Hillier Street Sheung Wan Hong Kong, HKI Hong Kong
About this event
This year has been tough on all of us. Small businesses in particular are hard hit during these covid times. With dwindling revenues and limited budgets, brand collaboration and networking seems like the best way to go!
The pandemic has taught us not to take life for granted. With work, travel and even relationships grounded to a halt, its time to take a pause and do some self-reflection. And with this we have planned some mindfulness activities, some real-time focus drivers and an exciting 'Breathwork' practice from our certified Breathwork expert.
So let's come out from our virtual worlds (with our masks on) and make "real" connections that are much-needed to get recharged and let's get going with rejuvenating our lives and our businesses.
This meet is for:
Small business owners and mompreneurs looking for ways to expand and grow their business network.
Those who wish to start their own business and are looking for new ideas and connections.
Those who simply wish to step out and meet other enterprising women and exchange positive vibes to grow their personal network.
Mums@PLAY is a platform that brings mums together, "mumtrepreneurs" in particular, who run small businesses mostly from home, offering them an opportunity and a common space to talk about their products or service through bazaars, and empowering them through workshops that are based on various topics related to managing their businesses.
Proposed Agenda: (subject to change)
3:00pm: Welcome note by Mehroo Turel, Founder -Mums@PLAY
3:15pm: Mindfulness activity followed by a Q&A session
3:40pm: Breathwork Taster session by Lisa Rosen, Certified Professional Coach and Breathwork Trainer
4:10pm: Network! Introductions round the table and more. (Detailed format leading to a productive outcome will be decided and announced soon)
4:55pm: Wrap up
Friends & Clients speak:
"Fantastic community with useful networking and skills building sessions. A lovely and comfortable place for mompreneurs to share and learn from each other." Hai Anh, Founder - Little Beans Toy Chest
"I attended the Facebook workshop recently & loved it! It was practical & hands on. Mehroo is so lovely & genuine in helping others in business. And I love that." Anthea Cooper, Founder- Anthea Cooper Jewellery
"Great event organized by Mehroo and it was very nice meeting people from different industries! Would definitely support their upcoming Bazaars." – Cheryl Tsang – networking meet participant