Neighbourhood Commons@Wanchai : Co-creating weekend PAST-PRESENT-FUTURE 共享鄰里空間@灣仔:共創周末-過去、現在、未來
About this Event
與你分享我們這幾個月的計劃歷程!
在不同的街站、小組討論、對談中所收集到的街坊故事,新洞察與和街坊的共創過程,我們會將啓動一系列的閑置公共空間,活化成展覽和體驗,把我們和一衆街坊研究員的研究成果一一呈現於你眼前!
作爲香港設計中心:設計營商周-城區活動的其中一環,鄰里關係研究所以灣仔的公共空間作爲實驗場所,測試我們和灣仔不同持份者透過共同創造的過程所產生的活化社區新概念。在未來的兩個周末,過來灣仔不同的街道和公共空間捕捉我們一系列的活動,將你的體驗和感想告訴我們的街坊研究員吧!
報名參加及體驗我們一系列啓動灣仔公共空間的活動!
- 灣仔社區故事導賞團 (因疫情關係,名額有限)
- 共創未來工作坊 @ 東美花園
- 展覽導賞團 @ 李節街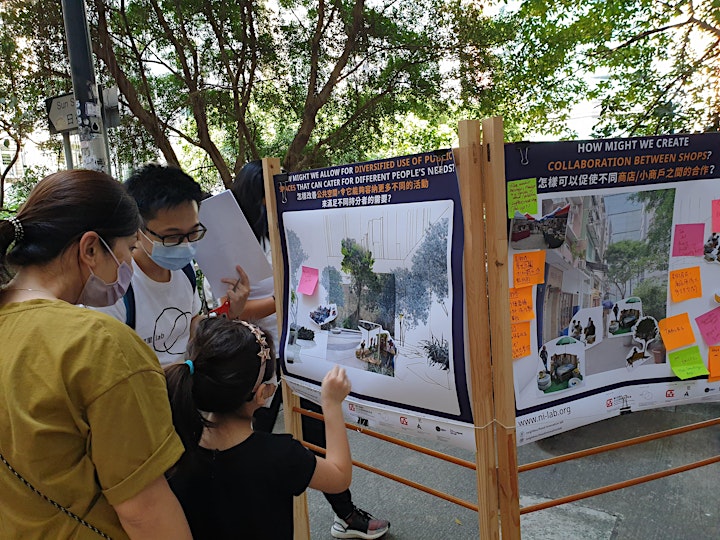 We would like to share stories, insights and findings based on the different interviews, focus group discussions and workshops conducted by our civic design fellows from the past few months through a series of open space activation during the Nov 28/29 & Dec 5/6.
In partnership with the BODW City Program organized by the Hong Kong Design Center, we plan to use open space as a medium to test out some of the ideas and concepts that we've collected along with our civic design fellows so far.
Sign up for the various events happening in your favourite neighbourhood, Wanchai!
- Neighbourhood Tours : We have tailored Neighbourhood Storytelling Tour to enhance your experience at our Co-creating Weekend. Led by our civic design fellows, they will take you on an eye-opening walk of how Wanchai's historical development has impacted the current urban fabric.
(due to social distancing measure we can only offer limited spaces but will keep more vacancy if possible)
- Exhibition Walk Thru @ Li Chit Street : Come join us over as we showcase our neighbour-centric design process, share what we have heard and present our findings and hypotheses through a walk-thru exhibition.
- Co-Creation Workshop @ Dominion Garden & Sun Street : After walking through different booths, joining our neighbourhood storytelling tours, do you have any new thoughts or ideas on how might we improve public open spaces in Wanchai? Come and share with us at Dominion Garden what you would like to see happen and contribute towards in the neighbourhood!
Catch our fellows on the streets over the two weekends, join our activities, test out different options and help us validate our hypotheses!