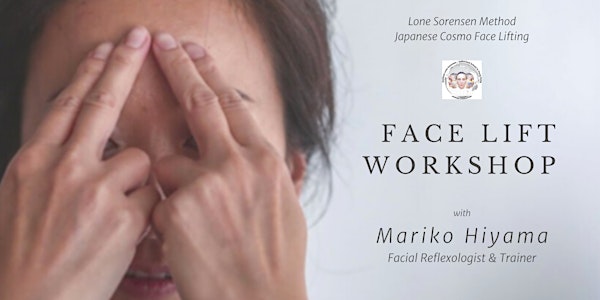 Natural Face Lifting Method - Full-Sequence Workshop
A secret of healthy natural beauty is here! Look Great & Feel Great with this effective method!
Refund Policy
Contact the organiser to request a refund.
About this event
This workshop is open to all genders and generations.
"As an experienced Facial Reflexologist, I can see my face has been changing ever since I started wearing Masks for longer hours & days. I feel that I need more "Self Face Massage" ever than before. We all need tools to take care of ourselves, especially right now. This is one of my signature Well-Being programs inspired by my teachers. I also add special approach to my program by combining the ancient wisdom of Ayurveda - the science of life - that I have been learning by working together with Ayurveda MDs and healers.
This is a natural approach to your healthier face and feeling, This program will definitely lift you up not only from outside but also from inside."
- Mariko Hiyama, Director MAITRI ASIA Ltd - Facial Reflexologist & Trainer
You will learn
Methodology of Natural Face Lifting
Co-Relations between our Face, Emotions and Health
Self Face Lifting Technique
The technique & methodology are based on Lone Sorensen Method.
You will receive
Online Face-to-Face Coaching
PDF of Self Face Lifting Sequence
Follow Up
A voucher for Hands-On Session
In this workshop, Mariko will also introduces - Authentic Ayurveda Massage & Treatment Oils - and How to Use them.
On this occasion, the workshop is offered with a special price.
About Mariko Hiyama
Mariko is a renown Japanese Facial Reflexologist and Trainer, who is currently based in Hong Kong. She has been traveling around the world as an invited guest practitioners at the world-top class wellness resorts. She also trains therapists from all over the world. Mariko runs "MAITRI HEALING SPACE" in Sheung Wan, providing various Facial Reflexology treatments, Yoga, Qi Gong classes. She also works together with Integrated Medicine Institute (IMI) in Central.
Any questions or inquiries, please contact
Email: mariko@maitriasia.com
Whatsapp:+852 6391 3566