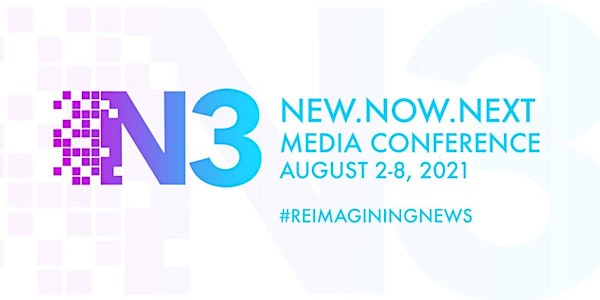 N3 Conference 2021
Join AAJA-Asia's premiere journalism conference, the N3 New.Now.Next Media Conference, online on August 2–8, 2021
Refund Policy
Refunds up to 30 days before event
Eventbrite's fee is nonrefundable.
About this event
#ReimaginingNews #N3Con2021
AAJA-Asia is proud to host the 11th edition of the New.Now.Next Media Conference (N3Con) from August 2 – 8, 2021 as an all-digital event.
Over the past 18 months, the world has changed — and so has journalism. The Covid-19 pandemic has taken the lives of millions. It has toppled governments, torn supply chains asunder and laid bare vast inequities. It has sparked hate targeting Asians around the world. And it has also shown us the strength and resilience of our AAJA community.
Now, as cities begin to reopen and we look to reconnect, we are also challenged to Reimagine News: how we cover post-Covid challenges and upheaval in a world filled with disinformation. At N3Con 2021, we will come together to share our stories, ideas and expertise.
For the past decade, N3Con has been Asia's premiere journalism conference, offering opportunities to connect with journalists and media professionals in Asia Pacific and beyond. And for the second straight year, it will be held online and is open to all.
Our keynote speaker is Gina Chua, executive editor at Reuters and a trailblazer as one of the most prominent transgender journalists in the world. Other sessions will focus on diversity, US-Asian relations and how journalists can help stop Asian hate.
We aim to make N3Con 2021 an invaluable and accessible resource for journalists, media professionals and students everywhere. That's why we are offering a full week of engaging programming at a nominal fee.
Get the best ticket deal
All members are entitled to a 50% discount! Tickets are available for as low as US$15 for members and US$5 for student members. And if you join as an AAJA member for the first time, you'll receive a free ticket to N3Con.
If you are already an AAJA member and have not received a special code to unlock discounted rates on all applicable tickets, please get in touch with us at asia@aaja.org. The code will unlock a discounted member-only price for each ticket on display. If it has not worked for you, please get in touch.
See you at N3Con 2021!