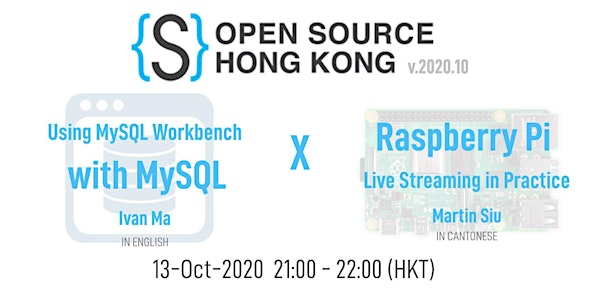 MYSQL & RPI, Open Source Hong Kong Monthly Meetup 2020.10
"Raspberry Pi Live Streaming in practice (Cantonese)" & "Using MySQL Workbench with MySQL (English)"
Refund Policy
Contact the organiser to request a refund.
About this event
Come and join Open Source Hong Kong
next Tue meet-up to explore "Raspberry Pi live streaming in practice", and "using MySQL Workbench with MySQL". Obtain both knowledge and network with others in one go!
About this Event
20:30 - 21:00 Unconference (bring along your favourite topic)
21:00 - 21:15 Rapberry Pi live streaming in practice by Martin SIU
21:20 - 21:50 Using MySQL workbench with MySQL by Ivan MA
MySQL Workbench is a powerful tool to cover,
• Connection Profile – local and remote management
• Administration, User, Table, Dashboard, Performance
• SQL query – visual query plan, GIS map
• Design Tooling – Creating ER diagram and Reverve Engineering on DB
• Data Import/Export, Backup/Recover, Security, etc…
Our session will show you how to visualise GIS and map in Workbench and discussion about Visual Query Plan, ER diagram. And using MySQL in managing all these locally and remotely.