Event Information
Location
Clubhouse, Bel-Air Residence
Bel-air Residence N. 8, Bel-Air on the Peak, phase 6, clubhouse Club 8, Bel-Air on the Peak avenue, Island South, Cyberport, Hong Kong Island
Hong-Kong
Hong Kong
Workshops for helpers: "MY ORGANIZED HELPER" Laundry, Closet, Fridge
About this event
Workshops for your helper
"MY ORGANIZED HELPER": Laundry; Closet; Fridge.
…………..
1."Laundering Problems and Solutions" (4th September)
· How to separate laundry for the best results
· Easy laundry tips to keep the clothes looking new
· How to use a clothes dryer correctly
· What Care Symbol and Instructions Mean
……………
2. "Organized Closet" (11th September)
· How to organize a lot of clothing in very little closet space
· How efficiently use space in the drawers?
· KonMari Folding: a step-by-step vertical folding technique
· Which tools you need to organize the closet
…………..
3. "Organized Refrigerator" (18th September)
· Organize fridges with food safety in mind
· Cross-contamination and how to prevent it
· Common mistakes that cause produce to spoil
· The easiest way to save space in the fridge
· Effects of ethylene gas and fruit ripening
The workshops conducted by Marina Voronina –Professional Home Organizer and KonMari Consultant Trainee.
…………..
Date: September 4th, 11th, 18th (Wednesday)
Time: 10am-11.30am
Venue: Clubhouse, Bel-Air Residence, Cyberport
Price: $900 (3 sessions), $650 (2 sessions), $350 (1 session)
e-Certificate is issued upon request (50hkd)
…………
Contact: (+852) 9528-4866
info@clutterfree.hk
http://www.clutterfree.hk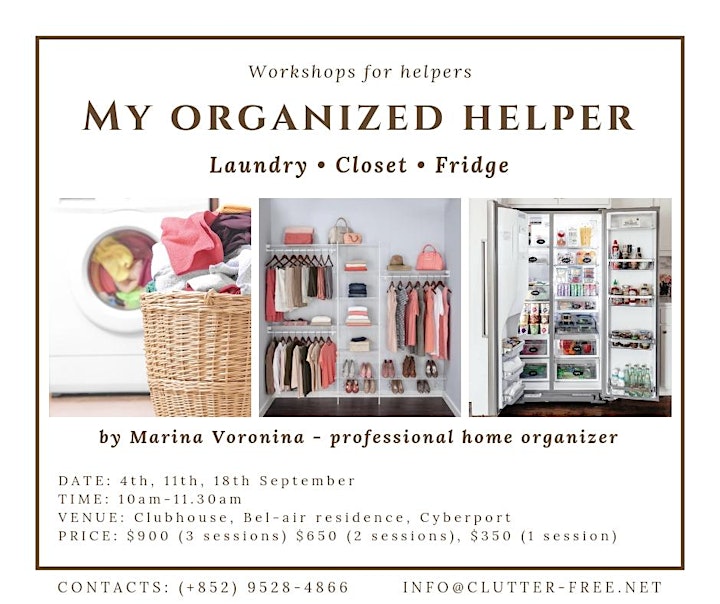 Date and time
Location
Clubhouse, Bel-Air Residence
Bel-air Residence N. 8, Bel-Air on the Peak, phase 6, clubhouse Club 8, Bel-Air on the Peak avenue, Island South, Cyberport, Hong Kong Island
Hong-Kong
Hong Kong