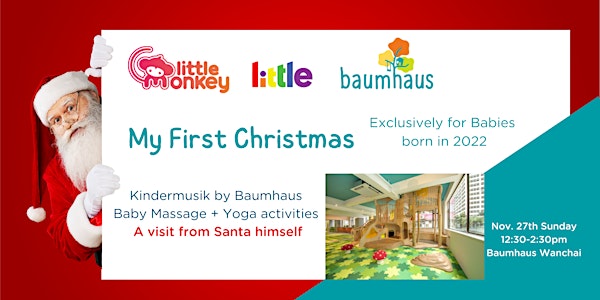 My First Christmas – festive fun with Santa and friends
My First Christmas – festive fun with Santa and friends. Presented by Little Monkey, Little HK and Baumhaus
When and where
Location
Baumhaus Wan Chai 36-44 Queen's Road East #1/F Hong Kong, HKI Hong Kong
About this event
Join Baumhaus, Little Monkey and Little HK (Massage and Yoga) as we welcome our youngest members into the holiday season.
From 12:30-2:30pm on November 27th, we will host a festive gathering of families with babies under the age of 1. There will be Kindermusik, Baby Massage + Yoga activities PLUS a visit from Santa himself (Be sure to take photos then!)
Two activity sessions will be tailor-made to two specific age groups. There will be arts & crafts to make Christmas keepsakes, and a chance to meet Santa himself!
Playroom and facility access is included from 12:30-2:30pm.
Limited slots available. Please register ONE ticket per FAMILY.
HKD 450. Each family must accompany a child under the age of 1.
Disclaimer: As government regulations may change, we reserve the right to make alterations in the interest in health and safety in compliance with government regulations. In the event of any changes to the event we will inform you by email.
- Face masks will be strictly required for all adults in the premises as well as for all children aged 2 years and older. Face masks are required to be worn at all times.
- Mandatory hand sanitising is required
- Following government regulations, all families are required to sign in using their Leave Home Safe app. Only Blue code guests are allowed entry in the facility. All adults must fill in a Health & Travel Declaration form upon arrival.
- Pre booking is required, tickets purchased are non-refundable
- No outside food and drinks are allowed in Baumhaus (except for baby food).
- We reserve the right to use photos, videos and/or sound recordings of children during the event for promotional purposes, unless otherwise informed by you in writing, addressed to: Baumhaus Concepts Limited, Little Monkey and Little HK.
- Baumhaus Concepts Limited, Little Monkey and Little HK shall not be liable for any personal injury or property damage/loss that occurs on the premises during the event
- Organiser and partners reserve the right to manage the number of adults and children in the premises, especially individuals who have not booked a ticket in advance
- Children or adult with any of the following symptoms WILL NOT be admitted to the event:
A temperature over 37.5°C (temperature will be checked on arrival)
An earache
A deep, hacking cough
Severe congestion
Difficulty breathing or untreated wheezing
An unexplained rash
Acute symptoms of food poisoning/gastroenteritis
Vomiting (in last 48 hours)
Diarrhoea (in last 48 hours)
Complaints of a stiff neck and headache with one or more of the above symptoms
Head lice or nits
An infectious /contagious condition
A child who is on an antibiotic for less than 48 hours

If your child exhibits any of the above symptoms, please notify us.
Please note that there is limited availability for this event, so please be considerate when purchasing tickets for additional family members to ensure as many people may take part as would like to.
Other questions & comments, please reach us on info@baumhaus.com.hk