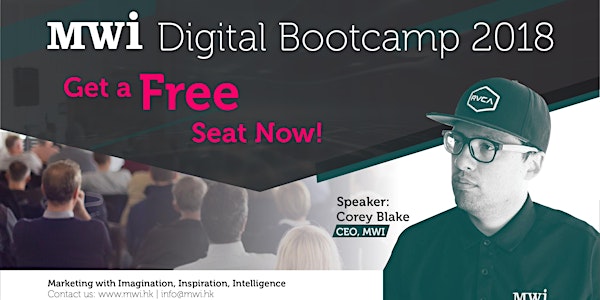 MWI Digital Bootcamp 2018
Description
Why join our MWI Digital Bootcamp?
Free seminar: Listen to our CEO, Corey Blake sharing the key to success without paying a penny!

Complimentary digital business analysis: Our MWI team will provide your business with pinpoint analysis, helping you to find the key to taking your business to the next level!

Complimentary one to one consultation: In-depth consultation, helping you identify solutions, and harness the power of online platforms.

Expand your business network: Network with marketing specialists from different business areas, and expand your connections!

Master new trends in the digital marketing world: The digital marketing arena is constantly changing, by joining our MWI Digital Bootcamp, you can gain insights to the most up-to-date developments on global digital marketing trends.
Register Here: www.mwi.com/en-hk/bootcamp-english