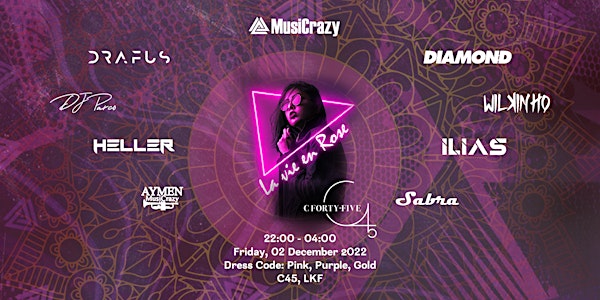 MusiCrazy presents Chapter II: La Vie En Rose
Dance the night away with our only magical experience in Pink, our last wonderful experience in 2022, Chapter II: La Vie En Rose.
When and where
Location
C45 Lan Kwai Fong HONG KONG, HKI Hong Kong
About this event
Ready to fall in love with music all over again? Enter Musicrazy's ethereal world this Friday with La Vie En Rose, another Magical Experience.
8 Amazing Artists will have you dance the night away inspired by Melodic Techno music.
THE DETAILS
The Time: 22:00 - 04:00
The Location: C45, LKF
The Dress Code: Show yourself off in a Pink, Purple or Gold colour outfit.
The Tickets:
1. At Door
2. Individual - Early Bird
3. Individual - Friends and Family Discount
The Fineprint:
We do not allow individuals to enter that are
1. Not in possession of a valid ticket;
2. Are under the age of 18 years old;
3. Under the HKSAR Laws, we require you to have your own vaccination record, LeaveHomeSafe app, and a photo of your Negative Covid Test result with your Name, Date and Time Stamp.
Musicrazy HK is not liable for any individuals that break the law.
THE TICKET PRICES
1. HKD 250: Friends and Family - Discount
Message one of the organisers to receive a special Friends and Family discount code. Only a limited number of individual discount codes are available per organiser. Once the quota has been reached, no other discount codes can be given.
2. HKD 300: Individual - Early Bird
Only available until 5pm Friday, 2 December 2022, At Door tickets will be available after this.
3. HKD 350: Individual - At Door
The only Individual tickets available after 5pm on Friday, 2 December 2022.
4. TABLE RESERVATIONS
HKD 15,000 = VIP Table, 1 Available
HKD 10,000 = Regular Table, 9 Available
1 Table includes 6 tickets. For table reservations, please WhatsApp: 6117 1817
5. SURPRISES: 12 Days of Musicrazy Christmases
FOLLOW OUR INSTAGRAM TO STAY CONNECTED: www.instagram.com/musicrazyhk/
DAY 1: STAYCATION GIVEAWAY AT THE W HOTEL IN JAN 2023
Haven't had the chance to travel in the past few years? We feel you, and while you might already have your holiday plans; we believe anyone deserves a getaway from everyday life from time to time, even if it's just for two nights. Why not kick off the year on a positive note?
In order to participate in this Giveaway, you must meet the minimum requirements:
1. Follow either one of our Social Media channels (Facebook, Instagram or Twitter) or register on our website (www.musicrazy.net),
2. Private Message one of our Social Media channels with 1. the music genre you love, 2. your name, and 3. how you would like to be notified if you're the lucky winner,
You are required to purchase an Individual Early Bird ticket to enter.
What you'll win
A Complimentary 2-night Staycation at the W Hotel Elements, with your partner, lover, best friend; or even enjoy the room all to yourself in January 2023.
The winner will have to communicate with one of the organisers their preferred arrival date before HKT 23:59 Saturday 31 December 2022. The room and giveaway will be subject to availability.
THE FINEPRINT
Your entry is only valid if you meet our terms and conditions, a.k.a. The Fineprint. These are
1. Meet the minimum requirements,
2. Are an individual who is at least 18 years of age, no entrance is allowed for people that are under the age of 18,
3. Live Life in Pink on Friday 02 December 2022, between 22:00 and 04:00 the following day.
4. Musicrazy HK reserves the right to change The Fineprint of this offer at any time, without prior notice.
DAY 2: EARLY BIRD GIVEAWAY
Secure your tickets before Friday 6pm, and stand a chance to win a FREE VIP Table with 5 of your friends including a bottle of Dom Pérignon, Luminous Brut '10 (or your bottle of choice with the same value or less).
Tickets include 1 free drink, 1 Early Bird Giveaway VIP Table
Before the calendars start to fill up, let's celebrate one last MusiCrazy night and close the year with a BANG!