Multiple Dates
Multidisciplinary Exhibition: The Orbit of Someone 繞軌而行:眾相共生
The Orbit of Someone is a multidisciplinary exhibition featuring Amsterdam-based artist Tessa Rose Jackson.
About this event
繞軌而行:眾相共生 The Orbit of Someone 將於2021年5月12日至6月6日於中環Yrellag Gallery 展出荷蘭多媒體跨界藝術家Someone (Tessa Rose Jackson)一系列作品,其中包括其抽象藝術、音樂創作以及擴增實境(Augmented Reality) 互動作品 Orbit。是次展覽邀請觀者携帶個人耳機到場,配合智能裝置,體驗藝術家結合音樂與抽象藝術呈現的感官世界,以音樂延續視界的同時,視覺感應亦互補語言與音符的空隙。是次展覽由Unemployed Art Graduate 策劃呈現,旨在創造音樂與視覺藝術的共生空間,探索不同藝術形式相互融合的可能性。
The Orbit of Someone, is the solo exhibition of Amsterdam-based artist Tessa Rose Jackson. A composer, producer, and multidisciplinary artist, Jackson, who goes by the name Someone, takes advantage of new media and materials to fuel her creativity in different art forms.
The exhibition features a selection of Someone's works from her early abstract series to newly released works. Included is her augmented reality series ORBIT, which originated from her album of the same title. Through abstract shape and form, Someone illustrates her synesthetic concept and creates a psychedelic visual world that corresponds with her music. Using interactive virtual technology to integrate animation, music, graphic images, and digital design, ORBIT invites viewers to immerse themselves in the artist's universe. Audiences are encouraged to view all five works through the free interactive app SOMEONE PRESENTS: ORBIT.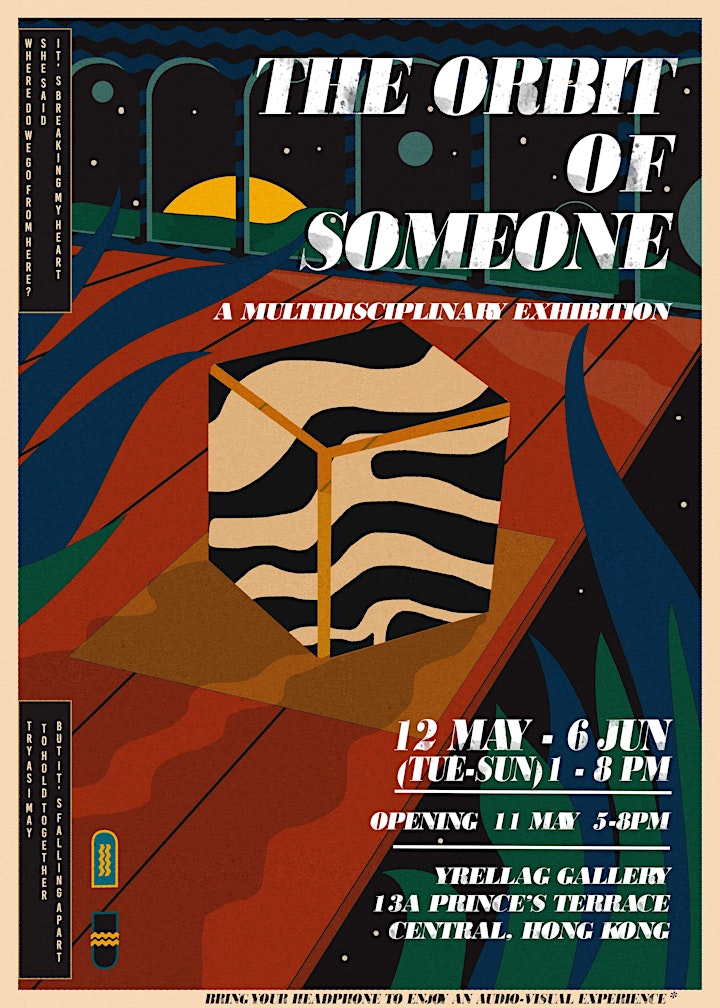 Organiser of Multidisciplinary Exhibition: The Orbit of Someone 繞軌而行:眾相共生