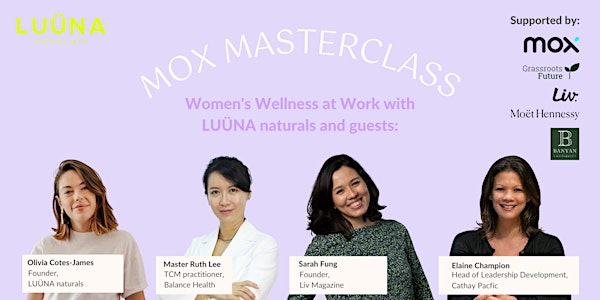 Mox Masterclass: Women's Wellness with LUÜNA naturals
An exclusive interactive panel with leading Hong Kong wellness experts. Learn how to support your team's wellbeing and company culture.
When and where
Location
Banyan Workspace 28號 Hoi Chak Street Suite 1204 Eastern Harbour Centre Quarry Bay, HKI Hong Kong
Refund Policy
Contact the organiser to request a refund.
About this event
LUÜNA doesn't just create healthy and eco-friendly period products; we're pioneering a new way of thinking about women's wellness at work. Through our first-of-its-kind A BETTER PERIOD initiative, we now serve thousands of staff across Asia with access to period care products aswell as taboo-free period and hormonal health knowledge at work.
Want to become one of the companies leading the new generation of wellness at work? Come along! More details about what this event entails, who it's for and what you'll get follows:
What is the event?
In collaboration with Mox Bank, we're hosting a small and intimate, exclusive panel with women's wellness experts across a broad range of industries. We'll be giving you a taste of our corporate 'A Better Period' initiative and other avenues you can take to improve your own wellbeing, and have an impact on that of others, within your workplace.
Who is this for?
Anyone wanting to improve their own wellbeing, those wanting to find out how to support their teams, or improve company culture in the office.
What you will get
1. Tips to apply to your everyday life to improve your personal wellness, energy levels and productivity.
2. Ideas you can implement immediately to improve wellness and culture within your workspace and connections to those who can help you create change on a larger scale.
3. What's a Luuna event without pads and tampons? You'll receive free Luuna products, a $100 voucher for our site and an exclusive offer on our personalised subscription service.
4. Light snacks and refreshments supplied by Grassroots Futures and Moet & Hennesy.
Grassroots Future is a registered charity in Hong Kong created through a desire to help refugee-led initiatives and grassroots organizations working with refugees.
About the Panelists
Olivia Cotes-James, Founder and CEO Luüna naturals
Founder and CEO of LUÜNA. Launched in 2019, LUÜNA is a disruptive healthcare start-up that empowers women in Asia to take control of their menstrual and hormonal health by creating access to better products and education.
Sarah Fung, Founder Liv Magazine
Founder and CEO of Hong Kong's best-loved wellness publication dedicated to covering the latest health and wellbeing news in the city. Sarah's vision was to create a beautiful, insightful and useful city publication serving Hong Kong's wellness community.
Elaine Champion, Head of Leadership & Organisation Development, Cathay Pacific
Elaine is a people centric leader who is passionate about enabling us all to be more human at work! She is a strong advocate for inclusion, finding potential, and helping build engagement and growth.
Master Ruth Lee, Traditional Chinese Medicine practitioner and Acupuncturist
Master Ruth Lee is a well respected TCM practitioner and acupuncturist in Hong Kong, where she has accumulated years of experience helping working professionals to manage excessive stress in modern city life.
|| Event details ||
Date: 16th November
Time: 7:00PM- 8:30 M
Class fee: 120 HKD per person
Venue: Banyan Workspace. Suite 1204 Eastern Harbour Centre (1204,東港中心 28, 28號 Hoi Chak St, Quarry Bay
Attendees must be vaccinated. Please email proof or vaccination to hello@luuna-naturals.com prior to the event OR bring proof on the day to show upon entry. Those without proof will not be able to enter Banyan Workspace.
#Don't forget to pay with your Mox Card to earn 1% Unlimited CashBack.
⭐ Receive 20% off LUÜNA naturals products. Head to 'Mox Exclusive Offers' on the Mox app!
Not yet a Mox customer? No problem! Simply download the Mox app on App Store or Google Play. Open an account just take a few minutes! Stay tuned for more upcoming Mox Masterclass on Mox website or Mox app!