Description
Description
Customers may forget what you said, but they will never forget how you made them feel. To make customers satisfied, you need to get their attention, obsession and loyalty with the user interface (UI) design skills that taught in our workshop. In this workshop, you will learn how to illustrate your UI design by "Skethch".
客戶可能會忘記你說過的話,但他們永遠不會忘記你帶給他們的感覺。學習用戶界面(UI)設計技巧,讓客戶們更愛上你設計的手機應用及網站程式。你將學會如何運用"Sketch"設計用戶理想中的用戶界面(UI)。
Activity Details
Dates and Time:
Feb 18 (Sat) | 12:00 - 15:00 & Feb 25 (Sat) | 12:00 - 16:00
Location:
The BASE, 1/F, Lift 29-30, HKUST
Language:
English
Quota:
30 (The Startups at HKUST Dream Builder Accelerator have a higher priority)
Event Facilitator:
Zoe and Fung
Series:
BASE Bootcamp x GT Startup Series
Application Start:
Feb 1, 2017 - 13:00
Refundable Reservation Fee:
HK$ 200 (The Application Fee will be refunded if the participants attend all sessions)
The Policy of Refundable Reservation Fee:
To ensure that all participants can have a whole learning process, the BASE team organizers will collect the Reservation Fee of HKD200 during the registration at the first session.This Reservation Fee is refunded to those participants who take the full attendance at the end of session.
Reminder:
Students have to bring along an own macbook for every class. Download the software"Sketch" (Free trail version here: https://www.sketchapp.com/)
Enquiry:
Please contact The BASE Team (base@ust.hk)
Organizer:

The BASE Team is a student-driven community supported HKUST Entrepreneurship Center with a physical co-workspace, which aims to promote and cultivate the Entrepreneurial Spirit in HKUST & Hong Kong.
Partner Organization:

Green Tomato Limited, a regional leader in mobile enterprise solutions and mobile innovation powerhouse. We are proud of our sustainable creativity and innovativeness on mobile. GreenTomato is a Hong Kong Business Awards Company, Computerworld Tech Company of the Year, Red Herring Global 100 & Red Herring Asia 100 company, being a proud winner of over 50 local and global awards including Hong Kong ICT Awards & Asia Pacific ICT Alliance grand award winner.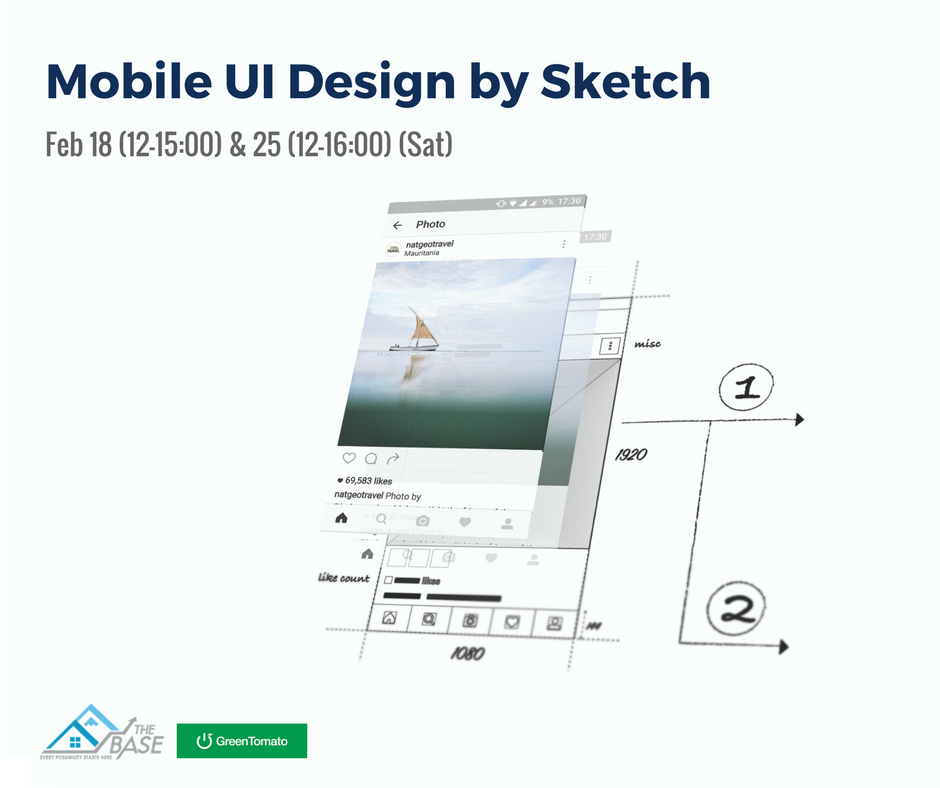 Organiser of Mobile UI Design by Sketch