Multiple Dates
MLA Workshop Series: "Leading 21st Century Meaningful Work Culture" series
"Leading 21st Century Meaningful Work Culture" Series: Managing Oneself
About this event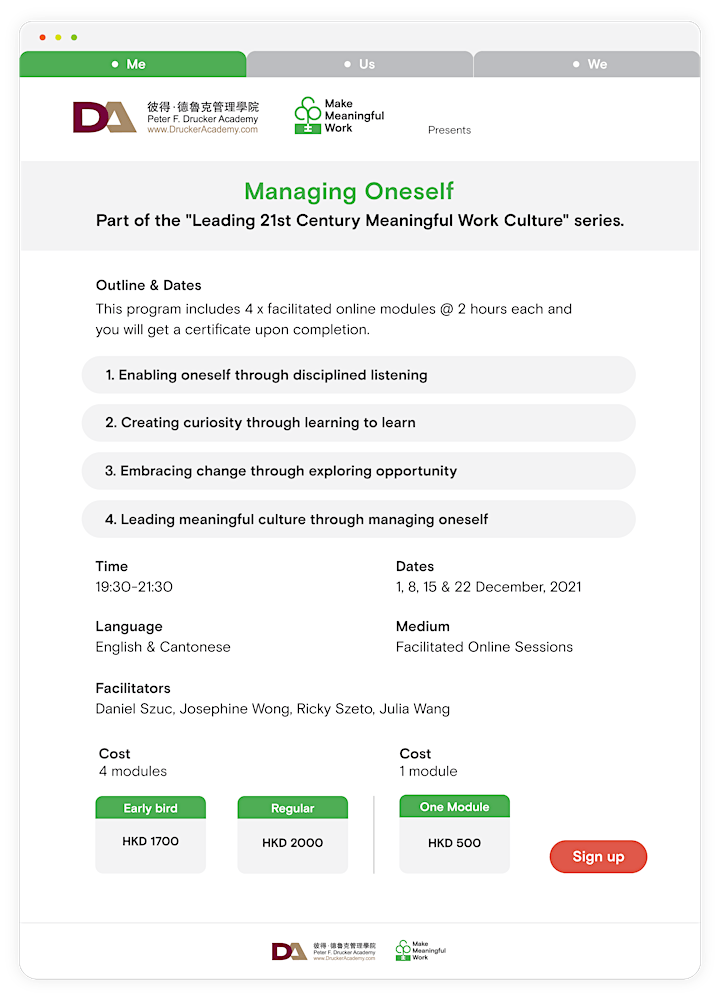 Building Character to Lead Meaningful Cultures
Course Description
"Opportunities come to the prepared mind" and this is especially true when we are living in an unprecedented turbulent time. In his classic book "Managing Oneself", Peter Drucker presents a practical self-management approach, through which you can learn to know yourself, your values, strengths and contributions. These can be summarised as transferable skills.
To encourage 21st century leaders we need to turn risks into opportunities by encouraging transferable skills, deeper practice and to stimulate thinking about the future of work and to help leaders move from "being to becoming". We need to spot the nuances of behaviours around us and proactively confront and overcome the difficulties critical to make meaningful decisions.
"Managing Oneself in the 21st Century" aims to prepare people today with abilities adapted to change, and on becoming future responsible leaders. Thus, this program is not for knowledge but a call for action. Those who prepare themselves and their institutions for the new challenges, starting Managing Oneself today, will be the leaders tomorrow.
Join us by taking responsibility for interpersonal relationships and self-renewal to make your work life meaningful and fulfilling during challenging times and move us from success to significance.
Modules & Dates
This program includes 4 modules below on "Managing Oneself" will feed our wider program in 2022 by exploring team success to encourage contribution and wider global significance by creating the futures we want now.
The 4 modules include:
1. Enabling oneself through disciplined listening (1 Dec 2021)
The power of showing a real and present interest in and about the people you work with, to encourage belonging by community building and overcoming barriers whilst also navigating complexity in looking for opportunities together.
2. Creating curiosity through learning to learn (8 Dec 2021)
Being open to learning about the relevant explicit practices in the stories at work and to take responsibility for your own learning portfolio to insert meaning into what you do.
3. Embracing change through exploring opportunity (15 Dec 2021)
Exploring the bigger picture, in making sense of patterns in emerging trends to inform intelligent decisions and determining what is critical to focus on to turn changes as opportunities.
4. Leading meaningful culture through managing oneself (22 Dec 2021)
Knowing who you are, your values, strengths and how you perform, in asking what you want to be and what you can contribute, to create a spirit of striving excellence and meaningful culture.
Learning Outcomes
Upon the completion of the modules, participants will be able to:
1. Spot and apply practices relevant to your own work contexts.
2. Gain confidence in storytelling to widening perspectives and identify what is meaningful to you and your team.
3. Connect and contextualize the relevant transferable soft skills into your own environment and take actions right away.
4. Strengthen partnerships for collective cooperation and responsibility.
5. Create a sense of unity and commitment in a direction to inform intelligent and meaningful decisions.
Benefits
This program will help widen and deepen perspectives to:
1. Take a more active leadership role in shaping the meaningful cultures you want in your work.
2. Insert meaning into what you do by converting words in actional practices using practice cards and micro exercises.
3. Take responsibility for your own learning and development through self-determination, self-confidence and resilience and motivation.
4. Reflect on the positive implications on character building and the roles you play in what you do.
5. Develop the necessary skills to be better leaders and facilitators as supported by Drucker knowledge +.
6. Award a certificate of attendance issued by Peter F. Drucker Academy upon the completion of four modules
We will also introduce the Make Meaningful Work framework and tools including "Practice Spotting (™)" and the "Make Meaningful Work Guided Practice Journal" instruments and focus on the following practices to shape sustainable meaningful cultures in "Managing Oneself".
Facilitators
Dr. Ricky Szeto
Dr. Szeto Wing-fu Ricky has been the Chief Executive Officer and Executive Director of Hung Fook Tong Group Holdings Limited since 1999. Dr. Szeto is currently a Practice Professor of the School of Accounting and Finance, the Hong Kong Polytechnic University. Dr. Szeto is currently the Executive Committee of Hong Kong Retail Management Association and the Vice-Chairman of the Executive Committee of The Hong Kong Society for Rehabilitation. He is also the chairman of the Hong Kong Professional and Educational Service (HKPES).
Daniel Szuc
Dan is a co-founder and principal at Apogee and co-founder of Make Meaningful Work, as well as the co-founder of UX Hong Kong. He has been involved in the UX field for over 20 years, and has been based in Hong Kong for over 20 years. Dan has lectured about user-centered design globally. He has co-authored two books including Global UX with Whitney Quesenbery, the Usability Kit with Gerry Gaffney and Make Meaningful Work with Josephine Wong.
Josephine Wong
Jo is a co-founder and principal at Apogee and co-founder of Make Meaningful Work, as well as the co-founder of UX Hong Kong. Jo grew up in multicultural Hong Kong, with a Chinese-Burmese father and Chinese-Indonesian mother. She collaborates with global teams conducting research in Cantonese, Mandarin and English. Jo is passionate about the environment, political and economic systems and how we can live healthier and happier lives while not adversely impacting less fortunate people. She co-authored Make Meaningful Work with Daniel Szuc.
Dr. Julia Wang
Dr. WANG is an expert in financial management, strategic planning and corporate governance. She has held senior leadership positions in multi-business company, education group and management institutes, and served as an independent non-executive Director of a large Chinese financial group. She is now the President of Peter F. Drucker Academy (Hong Kong) and the CEO of MLA Foundation.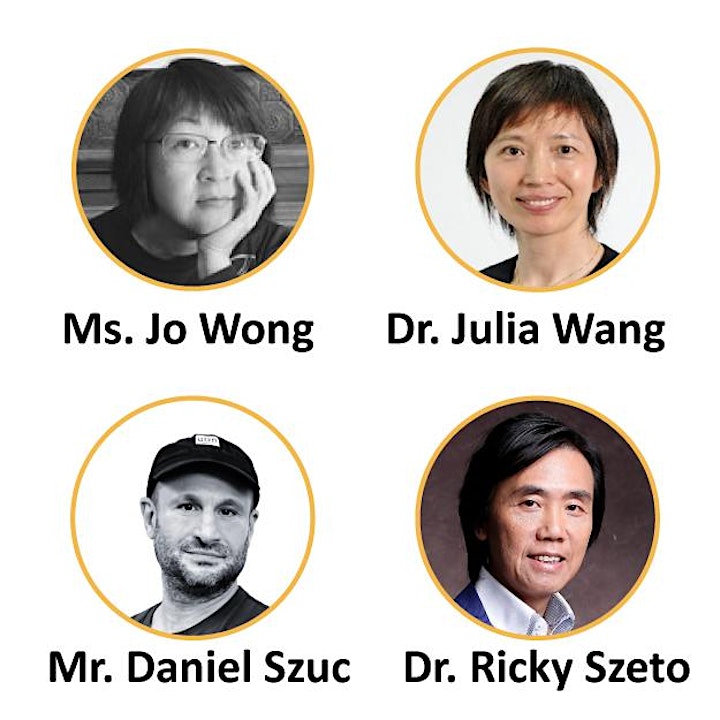 Cost
● Per module: HKD 500
● Full Program (All 4 modules):
○ Early Bird before 19th November - HKD1,700
○ Regular price kicks off from 20th November - HKD 2,000
Notes
● Seats are limited to 20 people per module.
● Each session will run for 90 mins from 8:00 - 9:30pm
Information Sessions
We will be hosting 1 free information sessions in both English and Cantonese on the following dates:
18th November - Information Session- 8:00 - 8:45pm (45 mins)
About Peter F. Drucker Academy
Wholly owned by MLA Foundation, Peter F. Drucker Academy (Hong Kong) is a registered Non-Profit Management Institute in Hong Kong, exclusively authorized by Peter F. Drucker and his family trust.
Our Mission
To help individual achieving, organization performing and society functioning through the learning and practicing of Drucker's Management as a Liberal Art in Greater China.
Our Values
Compassion ‧ Integrity ‧ Truth
Our Services
We focus on MLA (Management as a Liberal Art) advocacy, research and education. Collaborating with partner institutions, we organize MLA forums, seminars, and power talks for public and community members. In addition, we offer series of management training courses tailor-made for executives, entrepreneurs and young professionals. These courses are rooted in the origin of Drucker's Management as a Liberal Art, aiming at enhancing effective leadership, decision making, creativity and a sense of social responsibility of individuals and organizations.
Powered by the "Make Meaningful Work" Sparkle Studio
"Make Meaningful Work" is a learning platform to develop 21st century transferable soft skills. It helps us move from Sleepwalking to Sparkle and take ownership of ourselves, our team and our organisation by taking micro actions to shape the desired culture and behaviours to insert meaning into what we do.
In the Sparkle Studio we:
● Focus on Learning by Doing and Practice using the participants' own role using learning Instruments from the MMW Guided Practice Journal.
● Get to know each other in a different setting in a cross and interdisciplinary manner.
● Have opportunities to learn from each other.
● Use the Make Meaningful Work tools to observe and practice the implicit practices that can be connected and contextualised into real work.
● Have a structured and explicit way to reflect together.
● Rehearse and set the culture the team wants.
Join us in the Sparkle Studio to experience how we shape meaningful cultures by listening to stories from experts, spotting and recording relevant practices that we can apply immediately into what we do today and to sustain forward. We will encourage community building and how you can take responsibility to make your own Sparkle Studio and insert meaning into what you do.
Contact us
If you want to learn more about this program, please contact us at webinar@druckeracademy.com or (852) 2850-6620.
Organiser of MLA Workshop Series: "Leading 21st Century Meaningful Work Culture" series