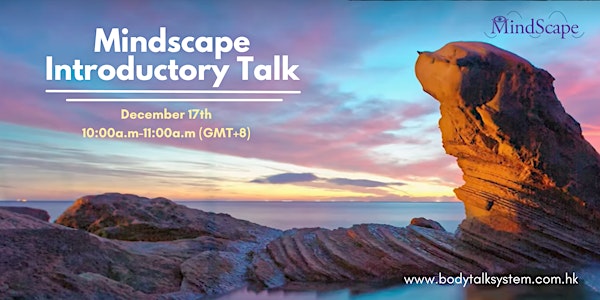 MindScape Introductory Webinar
Mindscape Seminar - Unleash your creative genius
About this event
MindScape Webinar- Unleash your creative Genius!
MindScape Webinar - Jan 7-9th 2022 - 7:00AM-12:00PM GMT+8
"A state of connection"
Intuition, creativity, personal growth, and performance training for life.
Are you ready to discover your full potential?
Most of us use only a fraction of our mind's capabilities. Our instinctive skill of moving through life utilizing subtle senses, brain function and trusting our intuition has, more than likely, been replaced by technology.
MindScape is designed to transcend limitations.
Modern day living and all its conveniences continues to diminish much of our brain's ability to process information, multitask, focus, problem solve, create solutions and remain calm while under stress and pressure.
Discover your amazing innate ability.
MindScape allows us to access a level of brain wave function that rejuvenates connections and enhances the partnership between the right and left brain communication
MindScape is a dynamic weekend workshop that leads participants to open the intuitive powers of the mind, and learning how to tap into this resource at will.
MindScape is a state of connection that offers you a way to increase mental abilities, discover your intuitive language and apply it in a practical way in your life. Join me for one of the most transformational weekends you will ever experience.
MindScape continues to improve every aspect of my life and opens unlimited possibilities. It literally transformed my personal relationships, businesses, and health of our family, performance and spiritual life immediately after taking the class.
MindScape is a must for those wanting to unlock the power of the mind, create amazing life experiences, develop intuitive skills, and design a personal workshop of unlimited creativity."
Introductory Webinar - https://www.bodytalksystem.com.hk/zoommindscape