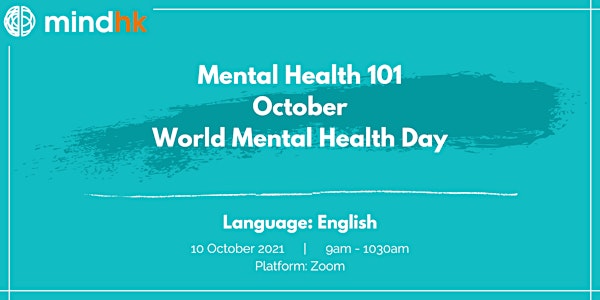 MindHK: Mental Health 101 October - World Mental Health Day!
A general introductory course to mental health.
Refund Policy
Refunds up to 7 days before event
About this event
One of Mind HK's core goals is to raise awareness through workshops, training sessions, and talks, in order to increase awareness and understanding of mental health in Hong Kong. We are pleased to present Mental Health 101 training session on OCTOBER 10th. 
Should you not be able to attend this time round, please note that there will be more Mental Health 101 trainings in the future. Updated event dates will be posted via our website and through our newsletter. To sign up for Mind HK updates please click here.
Training Session: Mental Health 101 
Platform: Zoom
Date: Sunday, October 10th, 2021
Time: 09:00 AM - 1030 AM
What is Mental Health 101?
A general introductory course to mental health, covering commonmisconceptions, selected mental health diagnoses, how to help yourself or someone else who is experiencing a mental health problem in Hong Kong, and how to look after your mental well-being.
Mental Health 101 will cover: 
The basics of mental health
Stigma around mental health
The spectrum of mental health
Tips on general wellbeing
Common Mental Health challenges: Stress, Anxiety and Depression
2 case examples
How to support others
Who does what: the difference between counselors, psychologists and psychiatrists
How to get help in Hong Kong
*Mental Health 101 sessions are conducted by clinical professionals in the mental health field. 
We suggest you to take Mental Health 101 before taking our Mental Health First Aid certificate course to get the basic knowledge around mental health. Completion of MHFA training will lead to being internationally certified in Mental Health First Aid (MHFA).
Mental Health First Aid will cover:
 Intervening and managing mental health emergencies as a first responder 

Panic Attacks, Suicide, Self-harm, Addictions 

What you can provide as a lay person 

When to get help
We are scheduling our next Mental Health First Aid course soon. Registration will be available soon. Please note this course has very limited spots and we will be offering more opportunities in the future.
Mental Health 101: 
Language: English 
Open to all. Limited Spots.
For queries about group ticketing, transferring tickets, or other concerns, please email training@mind.org.hk.
To learn more about Mind HK and other events, please visit: www.mind.org.hk.