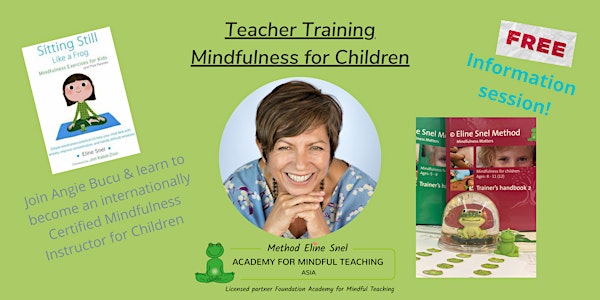 Mindfulness for Children Teacher Training - Free Introduction Workshop
Join this introductory workshop to learn about the Mindfulness for Children Teacher Training Host: Angie Bucu, Teacher Trainer for AMT Asia
By Academy for Mindful Teaching Asia
Date and time
Wed, 29 Mar 2023 04:00 - 05:30 PDT
About this event
1 hour 30 minutes

Mobile eTicket
Background Information:
"Mindfulness is feeling the sun on your skin, feeling the salty tears rolling down your cheeks, feeling a ripple of frustration in your body, mindfulness is experiencing both joy and misery as and when they occur, without having to do something about it…" Eline Snel
Eline Snel is the author of the well-known and treasured mindfulness books for parents and children, "Sitting Still Like Frog", "Sitting Still Like a Frog Activity Book" and "Breath Through This" - a mindfulness book for parents of adolescents. Over a number of years and many pilot programs with children and teenagers, Eline also developed the highly regarded and much-loved Mindfulness Matters, a mindfulness course for children and teens. Mindfulness Matters is an 8-10-week mindfulness training course designed for children and teenagers. It can be delivered in schools, in after-school programs, in private practice, hospitals and clinics. The programs are designed and tailored to 4 different age groups and taught by teachers trained by the Academy for Mindful Teaching (AMT) Asia.
This Introduction Workshop:
Join us on March 29th (7pm HKT - GMT+8) for this free Introduction workshop where we will introduce the Mindfulness for Children courses, and the Teacher Training program that allows you to teach these courses. we will go over the for participation, and what to expect for the certification process and beyond. Our session will be filled with information and experience with time for questions.
Get your free ticket for the Zoom link
Our Teacher Training Program:
An experiential 6-day program (to teach children 4-12 year-olds) you explore and learn about all the lessons for the children's courses. You will engage and learn through observing, leading, and participating in lessons and exercises demonstrated by the trainers and fellow participants. Experiential participation is key to learning and playing with the Method, its activities, and the meditations. Experiential participation is the best way to discover the essence of the Method and all it has to offer.
Other learning elements will include; practicing the art of inquiry, guidance on introducing mindfulness to your training setting, whether it be a school, clinic or other setting, guidance on the intake process, and how to meet the needs for SEN students / children.
Each participant will receive 2 Trainer's Handbooks covering the ages 4-8 and 8-12 years, along with other resources to support you as you teach Mindfulness Matters to children.
Conditions for participation
- Completion of an eight-week MiE/MBSR/MBCT/MSC training by a certified trainer
- Work with children aged 4-12 in schools, private practice, healthcare, or after-school care.
Your trainer : Angie Bucu
Angie is the partner and teacher trainer in the Asia region for Academy of Mindful Teaching - Method Eline Snel, and a passionate mindfulness instructor for children, teenagers, and adults. She is an MBSR teacher, has a Master of Wellness, and has trained in MBSR, MBCT, CEB, children's yoga, and Insight Dialogue. She has attended a number of long-term mindfulness retreats and organizes retreats for Hong Kong-based participants.
Teacher Training Program 2023:
Teaching mindfulness to children is a special and delightful experience filled with opportunities to guide them in developing inner awareness, attention and kindness. If you are interested in bringing mindfulness to the children and young people in your life, the Teacher Training course in the Method Eline Snel – Mindfulness Matters program may be of interest. Our next Teacher Training commences on September 23 & 24 in Hong Kong.
For more information about the Academy for Mindful Teaching and the Method Eline Snel courses, you may also visit our website: elinesnel.com or contact amtasia@elinesnel.com.
What some of our past participants have said:
"The course content is just so funny and cute and that is engaging to kids" Effie
"I really enjoyed the course. It was thought provoking and informative and totally inspiring, and I really appreciate being a part of it and now imparting the wisdom and knowledge to the children I work with. Thank you Angie & Eline" Andrea
"It's well thought out, would love to try it out on my clientele. I found that learning the importance and skills to cultivate acceptance and open awareness throughout the sessions very useful and was a reminder to allow the space to find my own voice." Rachel
"It reminded me how important practice is to teach mindfulness" Eric
"I enjoyed how the teacher helped us to experience the importance of self-compassion before moving to the exercise of the book " Chan,O
"The demonstration of the lessons and the opportunity to practice the exercises and lessons in small groups was really important as I might not know how to do some of these just by reading the words. The qualities of the trainer helped us learn this." Joanne
"It is helpful to listen to the thoughts/feelings/opinions of others. This open discussion and working with the materials can be useful and thought-provoking, especially as we are all just beginning. The variety of ways to experience the material is great" Stephanie
"The teaching and sharing from the teachers was valuable . They are incredible role models for us, as teachers of children mindfulness courses. Really feel very grateful that I have met my lovely classmates ....and generous sharing of resources, experience and many many things. Let's work hard together for the wellbeing of the children." Priscilla
"I love the genuineness and the humility you brought to the training, helped us feel that we're all on this journey together, and there are always new experiences and discoveries even as an experienced trainer. Overall, I felt safe to share and fully experience the exercises we go through together." Christine