A weekly upgrade of new coaching tools, mental models, frameworks for the better self
About this event
ABOUT MINDGYM:
A weekly yoga for your mind
A time to pause, reflect and reset
A weekly upgrade of new coaching tools, mental models, frameworks for the better self
A new way of creating the future through visualization mindfulness practice
There will be 4 parts in each 45 minutes Mind Gym session:
1. Simple and practical breathing & mindfulness practice to shift to the present moment and fully arrive in the session
2. Learn and apply a new coaching tools, mental models, frameworks for reflection, gaining clarity, setting effective goals, building
winning mindset, developing life strategy and so on
3. Share life hacks on stress management, better sleep, mental health, or other elements on holistic health & wellness
4.Guided visualization and manifestation: the newest technology to create your future.
ABOUT JUDY XU:
Judy is an intuitive guide to a life of purpose and bliss. In her practice Judy skillfully draws from her expertise as a Holistic Health Coach, Life Coach, Intuitive Coaching/Akashic Record, and Numerology reading.
Judy's unique ability to support her clients in their journey to balance, health and personal transformation is rooted in her own spiritual journey. On her journey to her Northern Light through authenticity, Judy has been able to manifest a life that she truly loves - and that looks very different from the life she led over a decade ago: she shifted from ego-serving to soul-serving; she evolved from unhealthy achiever to healthy achiever to powerful creator.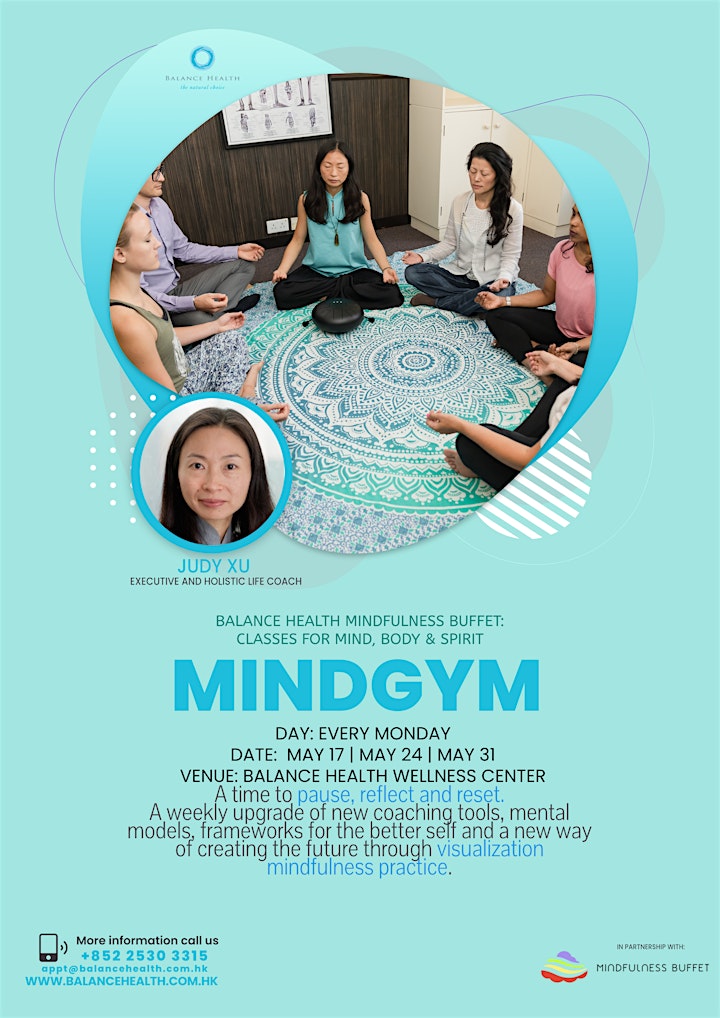 Organiser of Mind Gym Class
Balance Health is a natural health clinic offering an alternative to the conventional treatments, as no single system of medicine has the answers to every medical problem. As one of Hong Kong's earliest natural alternative clinics, Balance Health has supported thousands achieving health and well-being in body, mind, emotions and spirit.
By integrating the principles of conventional and complementary medicine our international team of therapists is able to take a broader view – lifestyle, nutrition, emotions, behaviour patterns, and beliefs. Health and wellness is more than simply the absence of pain. Balance Health offers alternative therapies to provide the body with the opportunity to heal naturally, making it stronger and less susceptible to illness and disease.
Whether you have health issues and want to facilitate your healing process or are just looking for a moment to escape your busy life: We connect you to practitioners to offer treatments tailored to your individual wishes and needs.