Location
Mighty Oaks International Nursery and Kindergarten
46A Belcher's Street
#1/F
Hong Kong, HKI
Hong Kong
Do your Christmas shopping for a good cause!
About this event
Join our Charity Fair on December 4th!
MIghty Oaks Green Charity Fair was established in 2016 to bring Hong Kong's small eco-friendly businesses together to support local charities! Mighty Oaks is committed to MATCH and DONATE a part of the total sales to charitable organizations while NOT taking any commission from the vendors. This year, our event beneficiary is J Life 啓愛共融社區中心 who is committed to feeding the poor, educating the Next Generations and helping others to help themselves in Sham Shui Po.
Our vendors will include skincare, organic gourmet foods and wine, books, toys, cards, and more! Retykle will be hosting their Pre-loved Children's clothing Pop up and Venture Studios Hong Kong will be taking family portraits on the day! Do your Christmas shopping for a good cause!
快來參加12月4日的義賣會吧!
奧恩幼稚園綠色義賣會於2016年成立,匯聚了香港許多小型環保企業支持本地的慈善機構!奧恩承諾向慈善機構捐贈總收入的一部分,而不向賣家收取任何佣金。今年,我們的收益人是啓愛共融社區中心( J Life 啓愛共融社區中心 ),中心為深水埗的貧困人士提供食物,為他們的下一代提供教育,讓他們之間互相支持和鼓勵,慢慢建立自信心。慈善義賣商品有護膚品、有機食物、葡萄酒、書、玩具、問候卡等等。@Retykle 會賣超過2500個高質二手幼兒及孕婦品牌,而 Venture Studios Hong Kong 届時將會來為大家拍家庭照!支持聖誕義賣,來購買聖誕禮物吧!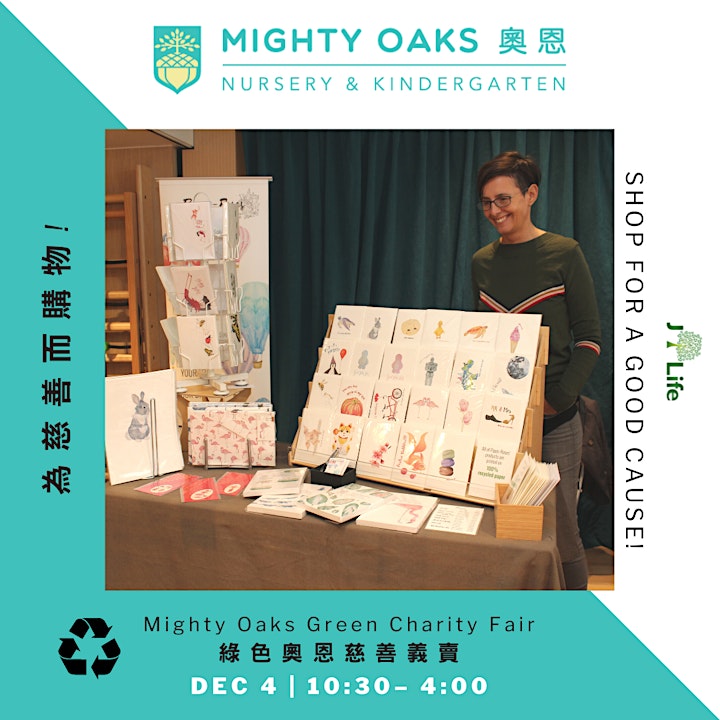 Children Products: The Wee Bean, Retykle, Emily in the wonderland, Happy Baton
Food and Wine: 珍菌天下 Kai's Gourmet, GardenHill, House Of Fine Wines, The Moral Foods, MyRoots SuperFoods, Nucao Hong Kong, Natnat, Tempehola, TORTO Quinoa 多多藜麥
Beauty & Personal Care: AwareStore Hong Kong, Beginning HK - 舜之源, Soap Yummy, Ecoegg Hong Kong, Kiri leakproof panties
Books: Book Wise HK
Photography: Venture Studios Hong Kong
Gifts: J Life 啓愛共融社區中心, Paper-Roses , Skywow 卓見
————————————
Mighty Oaks Green Charity Fair
日期:12月4日(星期六)
地點:奧恩國際幼稚園,堅尼地城時間:10:30am – 4:00pm入場方式:免費入場