Do your Christmas shopping for a good cause!
About this event
快來參加12月4日的義賣會吧!
奧恩幼稚園綠色義賣會於2016年成立,匯聚了香港許多小型環保企業支持本地的慈善機構!奧恩承諾向慈善機構捐贈總收入的一部分,而不向賣家收取任何佣金。今年,我們的收益人是啓愛共融社區中心( J Life 啓愛共融社區中心 ),中心為深水埗的貧困人士提供食物,為他們的下一代提供教育,讓他們之間互相支持和鼓勵,慢慢建立自信心。
慈善義賣商品有護膚品、有機食物、葡萄酒、書、玩具、問候卡等等。@Retykle 會賣超過2500個高質二手幼兒及孕婦品牌,而 Venture Studios Hong Kong 届時將會來為大家拍家庭照!支持聖誕義賣,來購買聖誕禮物吧!
參加商戶:
Children Products: The Wee Bean, Retykle, Emily in the wonderland, Happy Baton
Food and Wine: 珍菌天下 Kai's Gourmet, #GardenHillPB, House Of Fine Wines, #TheMoralFoods, MyRoots SuperFoods, Nucao Hong Kong, Natnat, Tempehola, TORTO Quinoa 多多藜麥
Beauty & Personal Care: AwareStore Hong Kong, Beginning HK - 舜之源, Soap Yummy, Ecoegg Hong Kong, #Kiri #leakproof #panties
Books: Book Wise HK
Photography: Venture Studios Hong Kong
Gifts: J Life 啓愛共融社區中心, Paper-Roses , Skywow 卓見
————————————
Mighty Oaks Green Charity Fair
日期:12月4日(星期六)
地點:奧恩國際幼稚園,堅尼地城
時間:10:30am – 4:00pm
入場方式:免費入場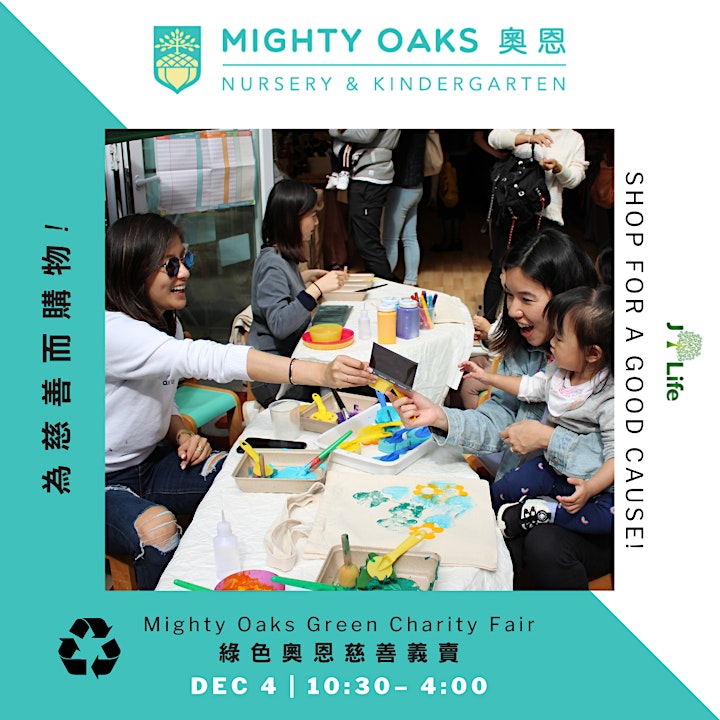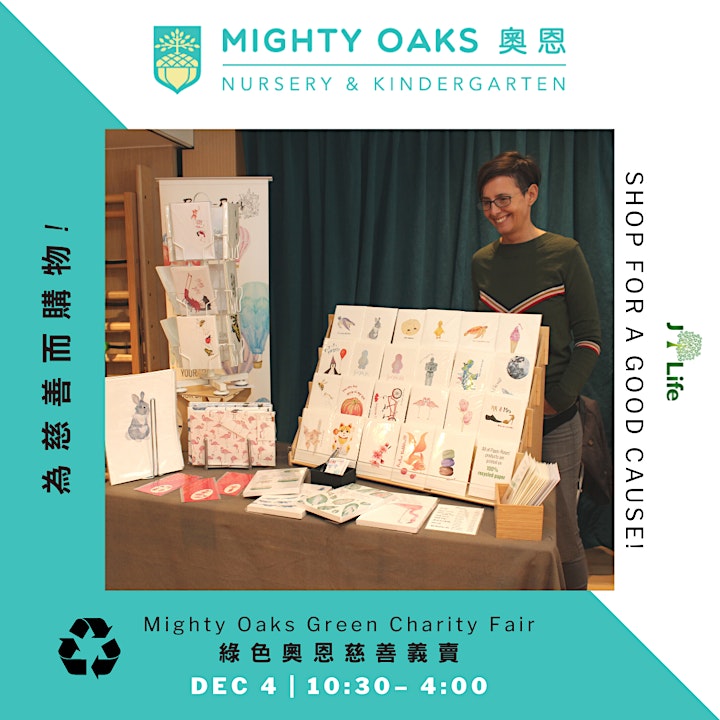 Organiser of Mighty Oaks Green Charity Fair
Founded in 2016, Mighty Oaks International Nursery & Kindergarten aims to help students build a wholesome character through play and discovery so they can grow into future leaders as strong and dependable as oak trees. The school curriculum is specially designed with a unique theme each month to match one of the nine "fruit of the spirit," corresponding to the nine attributes of love, joy, peace, patience, kindness, goodness, faithfulness, gentleness, and self-control.
The curriculum is modelled upon two of the world's best paradigms for preschool education—the United Kingdom's Early Years Foundation Stages Curriculum (EYFS) and the Canadian Full-Day Early Learning–Kindergarten Program Curriculum—adapted to suit the learning expectations in Hong Kong. The school offers a trilingual setting, with lessons taught in English, Putonghua, and Cantonese; therefore, students will be well-prepared to enter international and local primary schools. It is also one of the schools participating in Character Day Hong Kong to further promote character development. 
For more information, please go to our school's website: http://www.mightyoaksedu.hk