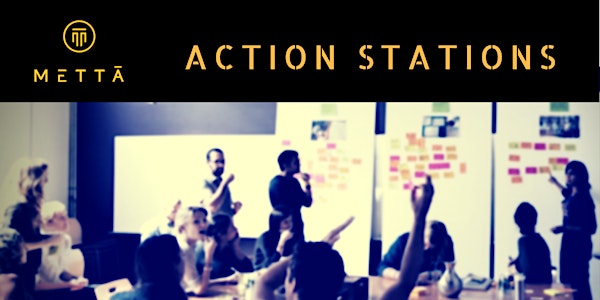 Mettā Action Stations: Fintech, Legaltech, Regtech, Investments
When and where
Location
Mettā 21/F California Tower, Lan Kwai Fong 30-32 D'Aguilar Street Central, Hong Kong Island Hong Kong
Description
Design Thinking… MVP… Bootstrapping… Rapid Prototyping... These are all critical pieces to the innovation framework, but where do you start? Whether you have an idea right now or not, if you want to learn how to design solutions for industry challenges, you've come to the right place.
What to Expect:
World-class Learning - Empathise, Define, Ideate, Prototype, Test. These are the fundamentals of Design Thinking that will soon become second nature for you.

100% Hands on - You will gain practical experience of the DT methodology, working with proven frameworks to develop prototypes and bring ideas to visualisation
Real Solutions - You'll be working with a curated, expert group of community members who understand the business models, challenges and opportunities specific to this sector, and can help ideate solutions to be tested.

Industry Expertise - The workshop will be led by Peter M Dingle, early-stage investor, advisor and mentor with more than 15 years driving innovation projects for multi-billion corporates in Asia.
What you'll Need:
Openness and curiosity to discover new ideas
Desire to collaborate with other participants and learn from others' experiences and perspectives
Passion for solving big problems
Zero prior knowledge or experience in Design Thinking
Workshop and Beyond:
The learning doesn't end with this active station. To keep you going long after the workshop has ended, you'll get one-month of online training.
Why Action Stations?
Starting a new business today is easier than ever; more companies start-up than ever before. Yet, the reality is that only a few get funded, and an even fewer successfully gains traction and growth.
As experienced business builders, we want new founders to gain an advantage from our past learnings. We want to see more successful companies start up, and get the funding they need.
This is the beauty and creation of the Action Stations
To give you this advantage, and to help you create success for your idea faster.
Hosted by Peter M Dingle, Early-Stage Investor, Advisor and Mentor.
Peter Dingle, a High Tech Entrepreneur, Investor and CEO Consultant. With 17 years experience in multi-billion products and brand growth businesses across Asia and global markets. Over the last two decades, he has developed, launched, and managed multiple 100M+ Technology Hardware and software products in Asia. His Innovation Accelerators in Hong Kong and Singapore have helped 75 Startups, and raised over USD50M in seed funding.
His sessions to the FinTech Audience will give attendees a 60min Crash course in Design Thinking - experience a full cycle of the World class Standford D-School process that builds and tests a real prototype. And give attendees the time to learning from mentors and peers as you develop your idea, or help someone validate their idea.