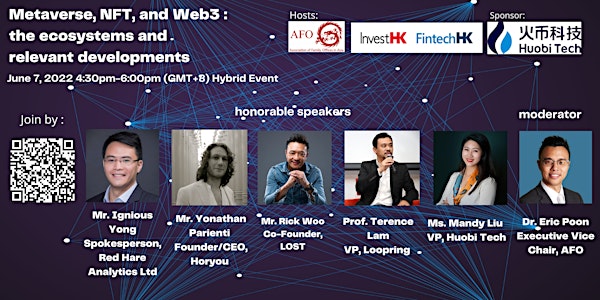 Metaverse, NFT, and Web 3: the ecosystems and relevant developments
A hybrid conference which will introduce Metaverse, NFT, and Web 3
About this event
Metaverse, "Frontier Tech", and NFTs are amongst the trendiest topic nowadays. AFO is honored to organize this webinar for our members to dive deeper into these topics. You would hear among various experts who are successful entrepreneurs in this ecosystem. We will share about ETH, Layer 2, Gamify, and Edutainment etc and how these will evolve over time.
The event is consist of two portions. One in May 30 and one in June 7.
Both the May 30 and June 7 events are hybrid events. The physical location will be held at 24/F, Fairmount Building, 8 Cotton Tree Road, Hong Kong.
The online location for the May 30 webinar will be on zoom with the following link:
https://us02web.zoom.us/webinar/register/WN_IHDPrw2kTlSQzAMiWWgawg
The June 7 webinar will be held on Event X:
https://spot.eventx.io/events/0a62ef5d-8df0-4758-bb58-794016d01f7e