Sales Have Ended
Ticket sales have ended
多謝您參與 , 稍後您將會透過Whatsapp收到詳情。 如有問題, 可聯絡venuslee@chorevconsulting.com。
Sales Have Ended
Ticket sales have ended
多謝您參與 , 稍後您將會透過Whatsapp收到詳情。 如有問題, 可聯絡venuslee@chorevconsulting.com。
About this Event
在香港這個巨變的時候,不少人整日焦慮如何撲美元; 思慮掙扎移民.... 恐懼和失望都令我們難以停下來,細心靜下來聆聽心裡微小的聲音。
本課程 (MERT Mindfulness Emotion Regulation Training) 試圖將古老的基督教智慧和最新的神經科學發現相結合,使您在面對驚濤駭浪的時候,幫助你疏理心思意念,可以體驗到內心更多的平靜,勇氣和喜樂。
第一堂 - 6月20日 (六 | 10:30-12:30 |上環Chorev辦公室)
「靜觀Mindfulness」簡介 | 靜觀之藝術與科學」(Mindfulness) | 「3R」呼吸練習
第二堂 - 6月27日 (六 | 10:00-11:30 | Zoom )
身體掃描 (Body Scan) | 讓聖靈接觸身體每個部分以經歷放鬆及療愈
第三堂 - 7月4日 (六 | 10:30-12:30 | 上環Chorev辦公室)
標註情緒 (Emotion Labeling) | 全心飲食法 (Mindful Eating) |
第四堂 - 7月11日 (六 | 10:00-11:30 |Zoom)
奪回心思意念 | 靈裡的察驗 (Discerning)
第五堂 - 全日退修營 (選修, 待定)
整天營會 - 安靜及集中退修,默觀散步,意念更新訓練
*退修營費用將另收費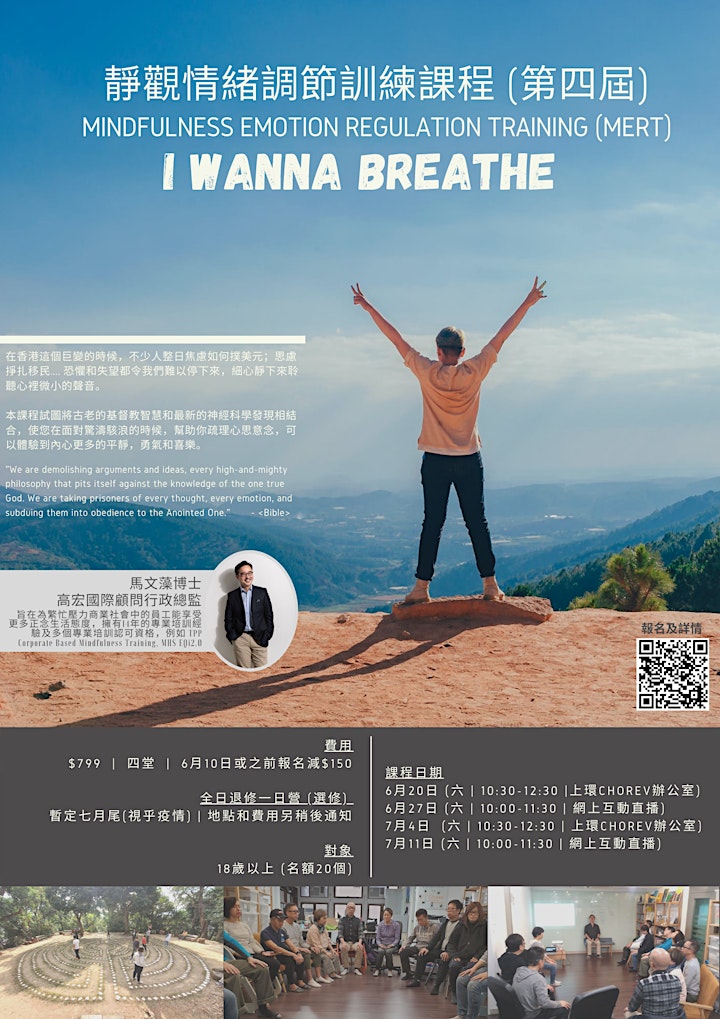 課程日期
6月20日 (六 | 10:30-12:30 |上環Chorev辦公室)
6月27日 (六 | 10:00-11:30 | Zoom )
7月4日 (六 | 10:30-12:30 |上環Chorev辦公室)
7月11日 (六 | 10:00-11:30 |Zoom)
其他詳情
費用: $799 | 四堂  | 6月10日或之前報名減$150
全日退修一日營 (選修) : 暫定七月尾(視乎疫情) | 地點和費用另稍後通知
對象: 18歲以上 (名額20個)
課程於6月15日截止報名, 如有問題, 可聯絡 venuslee@chorevconsulting.com 。
舊生的感想...
「雨中的道風山上,叢林中充滿靈氣,為6月6日的 MERT 退修營更添意境。早上以慢行 "明陣" 開始,內觀倍感自在,每步一腳印,悠然念感恩!平靜安穩的心情,欣賞大自然萬物,好好自我調息,靜氣養身心!接下來的身體掃描、慢食 、隨心繪畫等活動安排到位,讓我經歷一天感到安靜 、舒服、安穩、真實的退修體驗!感謝朋友推介我參加了這個 課程, 感謝導師 Andrew過程中帶領,欣賞各位同修朋友的心思意念!祝大家平安,Shalom 🙏😊 」
"In CMER (Lv1), I got a glimpse of St. Ignatius of Loyola's Spiritual Exercises which laid the basis of Christian Mindfulness and the discernment in God. In CMER (Lv2), Andrew led us into a little deeper understanding of emotion regulation. And through different mindful exercises that we can groom in our daily devotion, I have learned how to be more aware of me in God, all creatures and creation in this fallen world and our Hope in Him till the day we meet. Shalom. "
"a refresh approach of mindfulness retreat; just the right balance of theory, quiet time, and activities; enjoyed much of the mindful walk and mindful eating which brings the awareness of being and connectedness with God. Thanks Andrew!"