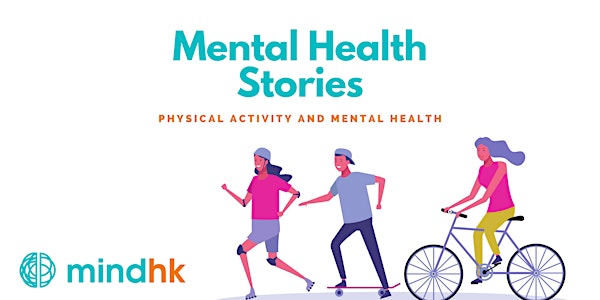 Mental Health Stories: Physical Activity & Mental Health | Mind HK
A panel discussion featuring personal stories highlighting the importance of physical activity on mental health recovery and maintenance.
About this event
Join Mind HK from 1-2pm on January 21st to hear from their esteemed ambassadors as they share their stories of mental health recovery and delve into how exercise has helped them through this process. This webinar will be an interactive conversation between three of Mind HK's ambassadors. Topics they will discuss include their experiences of mental health in the workplace, managing a diagnosis of bipolar disorder, coping with anxiety and depression, managing an eating disorder, and the stress culture in Hong Kong.
Date: Thursday, January 21
Time: 1-2pm
Language: English
Platform: Zoom (link will be shared by Wednesday, January 20th)
Fee: Free
*This is a pilot session for Mind HK's experts by experience programme. In order to take part in this event, we would appreciate it if you could take 2 minutes to fill out our pre- and post-event surveys. We appreciate all feedback!
Rundown:
1-1:10pm: Introduction on the link between physical and mental health (Mind HK)
1:10-1:40pm: Interactive conversation with the ambassadors (see speakers below)
1:40-2pm: Q&As
This event is part of Mind HK's upcoming Move it for Mental Health challenge in February 2021, which is asking people to complete 50km in nature in February for their mental health. Thank you to Here To Be, lululemon's social impact program, for supporting this year's Move it for Mental Health campaign.
Questions? Email media@mind.org.hk
Speakers:
Coby Leung, Mind HK Ambassador
Coby is an Accountant for a French food export company. She was diagnosed with bipolar disorder in 2018 and has been living in recovery for 1.5 years. She has a creative mind and enjoys watercolour painting, western cooking and gardening. Her dream is to use her experience to inspire others and reduce the stigma of mental illness.
Sam Boryslawsky, Mind HK Ambassador
Sam is originally from the UK and has been living in Hong Kong for the past 4 years. She has previously been diagnosed with Anorexia/Bulimia Nervosa, Post Traumatic Stress Disorder and Generalised Anxiety Disorder and is now in recovery. Sam enjoys an active lifestyle and regularly runs, hikes and lifts weights. She hopes that her story will show people who are struggling with their mental health that they are not alone and recovery is possible
Jeffrey Kwan, Mind HK Ambassador
Jeffrey is a father of two and has worked in the advertising field for over decades. He loves exercising and practices meditation regularly as part of the ways to keep his mental health in check, this is crucial when we live in this fast paced, always switched on city
Odile Thiang, Anti-Stigma Project Manager Mind HK (Moderator)
Odile has been involved with Mind HK since 2016. She is coordinating Mind's anti-stigma projects, and is actively involved in developing and delivering various training offerings. She is a Paediatric Nurse Practitioner with over 10 years of experience in child and adolescent care. She championed quality improvement initiatives in mental health care, where she developed and implemented a mental health clinical guideline and worked with community agencies to improve collaboration to provide seamless care for such a vulnerable population, in Toronto, Canada. Odile completed her Bachelor of Nursing as well as her Pediatric Nurse Practitioner - Masters Nursing degree at the University of Toronto.
Odile is currently a Child & Adolescent Teaching Fellow at the HK Polytechnic University School of Nursing. She is also a Clinical Care Coordinator with the Child Development Team, supporting collaborative developmental and mental health care to children and adolescents. Her extensive experience has allowed her to cultivate a strong focus in paediatric care, with a unique exposure to child and adolescent mental health.
Carol Liang, Communications Manager, Mind HK
Carol has been at Mind HK since 2017. She leads communications strategy, campaigns, digital content, and media relations, with the goal of destigmatising mental health in Hong Kong and beyond. She organises the annual Mind HK Media Awards and was the Communications Lead for the Conference in 2020. Carol has previously supported public health development and communication programmes for the UN and a number of health-focused NGOs and digital health start-ups in Boston, New York, and Geneva. She holds an undergraduate degree in Sociology and Medical Humanities from Boston College and a Masters of Public Health from Columbia University. She is a Global Shaper of the World Economic Forum and is passionate about everything public health, storytelling, and changing attitudes toward mental health.
Join Move it for Mental Health 2021: 50km Nature Challenge
Join Mind HK's Move it for Mental Health challenge in February 2021! Join the challenge to complete 50km outdoors in nature in February. Participants who complete 50k will win one of our fabulous prizes from our supporting organisations!
We want to encourage people to exercise in the outdoors, be it by hiking, cycling, walking, or running, to benefit from exercise and nature. There is ample evidence showing that increased physical activity outdoors is good for both your physical and mental well-being. The challenge starts February 1st and ends February 28th - join us: www.movetihk.com