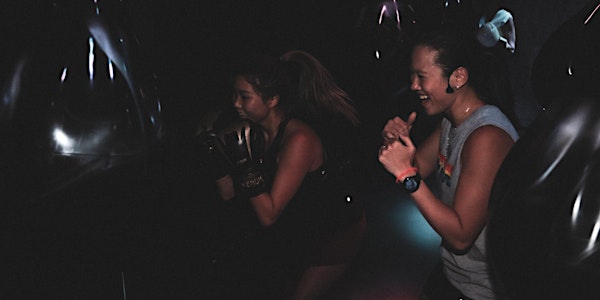 Mental Health Awareness Lights Out Box n Run Social
November, a men's mental health awareness month. Come Box, Run and Breath with us! A health and wellness event for all, no experience needed
When and where
Location
LIGHTS//OUT 22-26 Bonham Strand #11/F Hong Kong, HKI Hong Kong
Refund Policy
Contact the organiser to request a refund.
About this event
A time to honour our body and our mind with other like minded individuals. Let's train our body and our mind, to realize, release and be present with ourselves and what we need.
So for November, men's mental health awareness month, we invite you to take a moment to celebrate YOU, come smash and sweat with us during a 30 minute box n lift Lights Out class, followed by a community harbour run ending with a 10 minute mindful check in and some light healthy refreshments with like minded individuals at the newest hottest vegan restaurant in town - Root Vegan.
In this vibrant metropolitan city, we are accustomed to being busy and always on the move, we multitask and we get things done; to the point where we sometimes forget to breathe. We forget to stop, be still and ask our body; what do I need right now, how do I feel right now and what can I do to honour the state of being I am currently in.
This is a time where we invite you to tune in with YOUR mind and YOUR body and lets realign ourselves and help raise awareness on the importance of attending to our mental health.
Ticket price includes a 30 min class at Lights Out, the community run, 10 min mindful practice led by one of Lululemon's HK ambassador and light refreshments and drinks at Root Vegan, to connect, share and be in community. All participants will also go home with a top sponsored by Lululemon IFC store, a pair of easy hand wraps from Lights Out as a thank you for taking the time to honour your mind, your body and your soul.
A portion of your ticket will also be donated to "The Mental Health Foundation" to continue the support of raising mental health awareness.
***PLEASE READ***
Class will start exactly on time, we encourage arriving 10 to 15 mins prior to class time so that you are able to calmly set the tone for the rest of your experience without feeling rushed.
Showers are available on site at Lights Out with towels provided.
In case of rain, for safety purposes we will take away the run portion and the LO class and mindful check in will take on a longer duration.
Please wear appropriate workout gear and shoes for the class.
No previous boxing experience necessary. All fitness levels welcome.