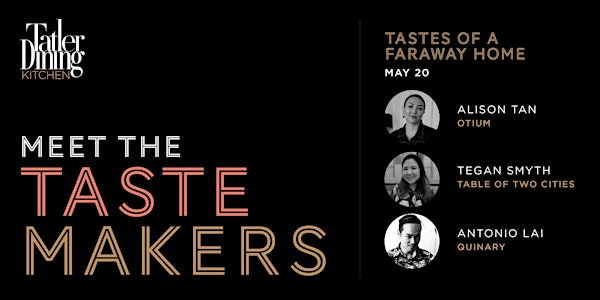 Meet The Tastemakers: Tastes of A Faraway Home
Meet The Tastemakers at Tatler Dining Kitchen: Alison Tan (Co-founder, Otium), Tegan Smyth (Table of Two Cities) and Antonio Lai (Quinary)
When and where
Location
Tatler Dining Kitchen Tatler Dining Kitchen at Haus, 1/F, Shop 38 & 40, 48 Queen's Road Central, Central, Hong Kong Hong Kong, HKI Hong Kong
About this event
To celebrate the launch of the Asia's Most Influential: Tastemakers list in Hong Kong, Tatler Dining presents a series of pop-up events at Tatler Dining Kitchen, each showcasing the philosophy and work of various Tastemakers.
Since 2016, Table of Two Cities has sought to tell the untold stories of refugees in Hong Kong through food, based on the idea that a shared meal can bring two sides of a tale together on one table. In this first-ever collaboration, Smyth and experimental supper club co-founder and food designer Alison Tan will ask three refugee cooks questions about what flavours they associate with their home of origin, and what they associate with Hong Kong. The artistic intention of this dinner is to explore how smells and tastes evoke and ground us in feelings of home, as well as centre the journey of these refugees using their kitchens to build home. Rounding off the experience is experimental mixologist Antonio Lai of Quinary, who will bring his sensitive approach to flavour and storytelling through drink to the fray. The event will erase borders, highlighting survival and community through three cooks, three journeys, and three cocktails and small plates.
All proceeds will go to the participating asylum seeker cooks of Table of Two Cities.
IMPORTANT NOTES
1. Please arrive promptly. This immersive dinner is akin to theatre and will not be repeated for latecomers.
2. The event will feature dishes cooked by three members of the refugee community. In order to respect their privacy and boundaries, please ensure you read through our interaction guidelines prior to the event. Copies will also be provided at the venue for your reference.
3. The event will feature audio storytelling in English.
Cocktails
By Antonio Lai
Makrut lime cordial, lemongrass gin, soda
Vanilla coffee, Zacapa rum, lime, ginger, cardamon
Pineapple, whisky, mango bitters
Food
By Table of Two Cities
INDONESIA
Javanese-style gado-gado (Indonesia) | Tempeh, cabbage, snake bean, peanut, shrimp paste, kencur, makrut lime, garlic chips
EGYPT
Falafel with tahini sauce, cucumber, tomato and pita bread | Chickpea, fava bean, tahini sauce, homemade pita
SRI LANKA
Tuna cutlet and kaha bath |Tuna, potato, green chilli chutney and tomato chutney, coconut, turmeric, cashew, pandan, curry leaves, rice
Guidelines for approaching/dealing with members of the refugee community
1. Discussions / Conversations
It is important to remember that the community is multi-cultural and multidimensional.
People from the same country may not have the same story or reasons for being in this city. There is not a particular way someone should be or look - this is normal.
Some main points to note:
○ Please do not ask why someone chose to come to Hong Kong (people do not choose to become refugees and asylum seekers, and often coming here might not have been voluntary, due to human trafficking and other incidents which have left a traumatic impact upon their lives);
○ Try to not make assumptions about people's education level or status;
○ Practice active listening;
○ Respect people's boundaries and privacy.
2. Social media / photography
○ Many refugees and asylum seekers have concerns about their safety and as far as possible, photos of their faces should be avoided (unless the Refugee Union takes the photos and approves them for social media, please do not upload any photos of people's faces).
○ Please also consider de-identification of names—if a name is used, use a pseudonym with an asterisk to denote that the name has changed for reasons of anonymity. I.e. instead of Sarah - use "Michelle*"
3. If in doubt…
○ There are resources available online such as here.
○ You can ask a member of staff or volunteer at Grassroots Future