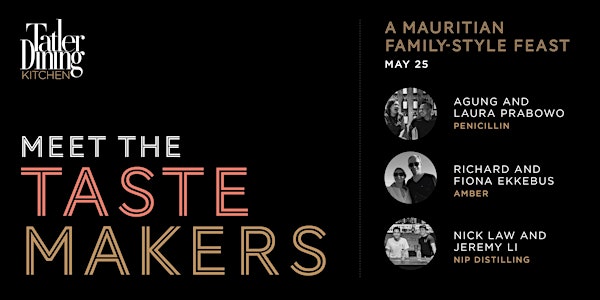 Meet The Tastemakers: A Mauritian Family-Style Feast
Meet The Tastemakers at Tatler Dining Kitchen: Agung and Laura Prabowo (Penicillin), Richard and Fiona Ekkebus (Amber) and NIP Distilling
When and where
Location
Tatler Dining Kitchen Tatler Dining Kitchen at Haus, 1/F, Shop 38 & 40, 48 Queen's Road Central, Central, Hong Kong Hong Kong, HKI Hong Kong
About this event
To celebrate the launch of the Asia's Most Influential: Tastemakers list in Hong Kong, Tatler Dining presents a series of pop-up events at Tatler Dining Kitchen, each showcasing the philosophy and work of various Tastemakers.
Experience a new side of award-winning chef Richard Ekkebus of Amber as he joins hands with his wife Fiona to cook a comforting feast from Mauritius, the island nation that they called home for many years prior to launching his lauded restaurant at the Landmark Mandarin Oriental. Joining them will be another dynamic husband-and-wife duo—Ekkebus' long-time collaborator and master mixologist Agung Prabowo and Laura Prabowo of Asia's most sustainable bar, Penicillin, as they all celebrate the marriage of local produce and tropical flavours. Also featuring cocktails made with NIP Distilling gin, one of Hong Kong's only locally produced gins created by Nick Law and Jeremy Li.
IMPORTANT NOTES
1. The menu is served sharing style; reservations are for a minimum of two and a maximum of four per table.
2. Please arrive promptly for your reservation to enjoy the entirety of the meal and to be courteous to those arriving for bookings after yours.
3. Please inform us of any food allergies at least 72 hours in advance of your booking by contacting tdk@tatlerasia.com with your ticket reference. Due to the nature of the menu, we regret that we are unable to remove garlic, onion or spices from our dishes.
MENU
All dishes are served family style to share and may be subject to change.
HK$980 per person
A Partager/To Share
Salade de Coeur de Palmier avec Noix de Coco & Petit Limon/ Palm Heart Salad with Coconut & Kalamansi
Salade Ourite Créole / Creole Style Octopus Salad
Salade de Poisson Salé Pimenté / Spicy Salted Fish Salad
Gin Gin Cider
5 days fermented, carbonated at 3g/L, Brix 16°, pH 2.8, ABV 12.9%
Discarded apple & pineapple rind, salted honey, @nipdistilling gin added during the fermentation process on the 4th day
Au Millieu/In the Middle
Soupe Mullugtawny
A Moveable Feast
Discarded shell vodka/calvados, clear spiced tomato, coconut, @commonfarms oyster/borage leaves infused in Chinese ceramic coated with cheese wax
A Partager/To Share
Rougaille Crevettes aux Fruits Jacques / Shrimp & Jackfruit Rougaille
Carri Patate Douce, Chouchou aux Noix de Coco / Sweet Potato, Chayote & Coconut Carri
Lentille Noire Fricassée / Black Lentils Fricassée
Etouffé de Giraumon / Braised Pumpkin
Riz Basmati / Basmati Rice
Chatini Coco / Coconut Chutney
Chatini Pommes D'Amour / Tomato Chatini
Achard Légumes / Spiced Vegetables Pickle
Achard Mangue / Green Mango Pickle
Rectified Ti' Punch
Rotovap local guava rum, fermented passion, nocino, recomposed lime
Pour Finire/To Finish
Rasgoula au sirope d'épice / Rasgoula in mild spiced syrup
L'Ananas Roti a la vanilla / Vanilla Roasted Pineapple
Glace a la Citronelle / Lemongrass ice-cream
Smoked Beetroot Old Fashioned
Discarded basmati rice cooked grain whiskey, mescal, amaro, pom-beet shrubs