meatmarket.hk Festive Fare Shop
When and where
Location
meatmarket.hk co-share kitchen Level 15 , Unit 1 & 2 2 Lee Lok Street Ap Lei Chau, Hong Kong Hong Kong
Description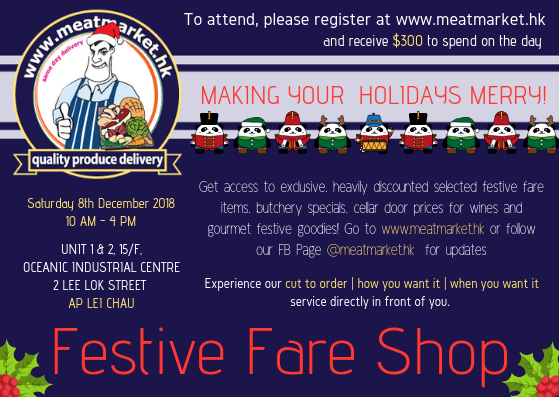 Register today and get $300 to spend on the day!

WELCOME TO OUR FESTIVE FARE SHOP
Saturday 8th December 10 AM - 4 PM
Keep an eye out for what's going to be on special by liking us on Facebook or at www.meatmarket.hk
---
Get access to exclusive, heavily discounted festive fare items, massive specials from our butchery, cellar door prices for wines, and lots of gourmet festive goodies!
Join in the tasting demonstrations, stock up on goodies for the festive season and for your home cooked dinners, mingle and enjoy some mulled wine whilst grabbing great deals on all our items in the shop.
LOCATION
meatmarket.hk Co-Share Kitchen - Level 15, Units 1 & 2, Lee Lok Street Ap Lei Chau

DATE & TIME
Saturday 8th December 2018 10 AM - 4 PM
Bought to you by WWW.MEATMARKET.HK
Experience our cut to order | how you want it | when you want it service directly in front of you.
Cut to your specifications, packed however you want it and take it home on the day or arrange delivery!


SHOP TIL YOU DROP!
Questions? Email events@meatmarket.hk!