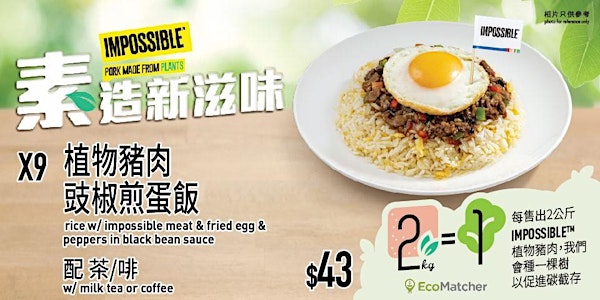 Maxim's MX x Impossible Foods
Hong Kong's first fast-food chain to plant for a better planet through EcoMatcher
When and where
Location
Maxim's MX Maxim's MX Hong Kong, HKI Hong Kong
About this event
In recent years, plant-based meat has become more popular among those who live a sustainable lifestyle, and new innovation in taste attracts various consumers to try out plant-based food. To encourage those who are keen to adopt low-carbon lifestyle, Maxim's MX joins hands with Impossible Foods once again to launch the new "Impossible Pork & Peppers in Black Bean Sauce with Fried Egg and Rice", presenting a simple, delicious and low-carbon option for everyone! Eating Impossible pork made from plants instead of those made from animals is a more sustainable option and helps reduce 73% of greenhouse gas emissions. Maxim's MX will also plant for a better planet.
Eat well and save the planet
Global warming is worsening, and we are seeing extreme heat waves across the world. As one of the leading fast-food chains in Hong Kong, Maxim's MX is committed to promoting sustainability. Leveraging the launch of the new plant-based dish, Maxim's MX supports tree planting through EcoMatcher, a B-Corp certified social enterprise focusing on tackling the climate crisis. During the promotion, Maxim's MX will plant a tree through EcoMatcher for every 2 kilograms of Impossible pork consumed, aiming to help carbon sequestration.