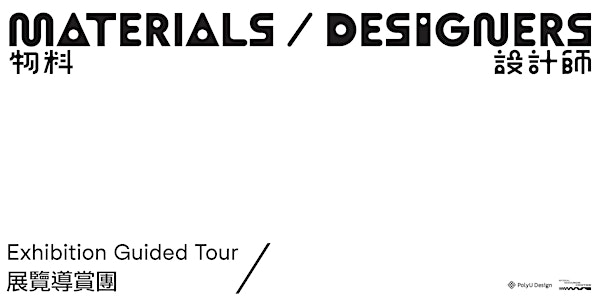 " Materials / Designers " Exhibition Guided Tour | 『 物料 / 設計師 』展覽導賞團
" Materials / Designers " Exhibition Guided Tour | 『 物料 / 設計師 』展覽導賞團
By HKPolyU MRC - Material Resource Centre
Date and time
Tue, 18 Apr 2023 18:00 - 18:30 HKT
Location
Jockey Club Innovation Tower, The Hong Kong Polytechnic University V210 Hung Hom, KOW Hong Kong
About this event
關於展覽 |
Slash可指斜槓族,是一種近年新興的概念。指年輕一輩不再受傳統工作模式所束縛,隨自己心意彈性地選擇工作。他們介紹自身職業時會以「/」作為分隔,劃分開自己的不同角色。為生活增加更多可能性,是一種生活態度和追求。
『物料/設計師』展覽融入了斜槓概念,展示物料與設計師之間的自由配搭。物料資源中心邀請了七位年輕的設計師,他們均畢業於香港理工大學設計學院,在學生時期曾奪得不同獎項,現於不同設計領域各展所長。展覽以物料為題,設計師選擇一種能代表自己的物料,並用該物料出一件作品。物料選擇由常見的紙張、木頭、亞加力到較為特別的智能材料——OLED螢幕和生物物料——酵母,各自展現出鮮明的個性。物料資源中心希望透過展覽,讓參觀者了解設計師對不同物料的獨特見解,感受物料與設計師之間的關係,以及探索不同物料的可能性。
展覽作品 |
展覽會邀請了七位設計學院校友,選擇能代表自己的物料,用其創作出作品。
參展設計師|
陳盈敏、陳可兒、陳菁鈴、陳曦成、鄧曉瑩、麥朗、吳湘鏵
『 物料 / 設計師 』展覽
展覽日期|2023年3月13日至5月29日
地點 |香港理工大學賽馬會創新樓 平台 V210 展覽廳
合作主辦 |
香港理工大學設計學院
物料資料中心
About the exhibition |
Slasher is an emerging term coined for those with multiple careers, referring to the numerous 'slashes' in their work title enumerating their different job abilities. The idea of slashing suggests that young people no longer confine themselves to a single position. Multiple careers allow them to pursue various interests and a more satisfactory work-life balance.
"Materials / Designers" reflects the idea of slashing by displaying designers' liberating relationships with different materials. The Material Resource Centre of PolyU Design invited seven young designers, the alumni of PolyU Design at The Hong Kong Polytechnic University, to create artwork for the exhibition. These young designers achieved outstanding accomplishments and received numerous awards during their studies, and now, they have unleashed their potential in various fields of design. For this material-themed exhibition, each designer has produced artwork using a single material, from the traditional, including paper, Hong Kong reclaimed wood and acrylic, to new intelligent panels such as OLED and a biological agent, yeast. Each material has unique characteristics. With this exhibition, the Material Resource Centre of PolyU Design hopes to show the designers' insights into these materials, allowing visitors to understand their relationships and explore the materials' possibilities.
Works |
The exhibition showcased 7 works made by representative materials of their designers, who are School of Design alumni.
Designers |
Ada Chan , Cindy Chan ,Chan Ching Ling, Elaine ,Chan Hei Shing ,Emily Tang ,Jonathan Mak and Sara Ng
"Materials / Designers" Exhibition
Exhibition Date | 13th March to 29th May 2023
Location | Gallery V210, P/F Jockey Club,Innovation Tower, PolyU
Jointly organised and presented by |
School of Design, The Hong Kong Polytechnic University
Material Resource Centre, PolyU Design
公眾查詢|曾慧敏女士 (Man Tsang)
電郵 | mrc.sd@polyu.edu.hk
電話 | 2766 4932
Enquiry | Man Tsang
Email | mrc.sd@polyu.edu.hk
Tele | 2766 4932
Frequently asked questions
What is the maximum number of people allowed in each guided tour group?
How to access in PolyU campus