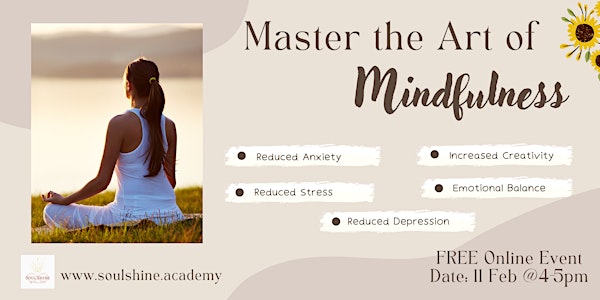 Master the Act of Mindfulness
Mindfulness is a present moment awareness, awareness of the moment gives clarity, embrace silent and experience the joy of inner peace!
Date and time
Saturday, April 8 · 1 - 2am PDT
About the organizer
Welcome to the community!
Soul shine academy is a community where we teach the art of living. The practice is designed to train awareness, produce a deep state of relaxation, and enhanced physical and emotional well-being. It is a holistic, transformative process of repair and recovery in mind, body, and spirit resulting in positive change, finding meaning, and movement toward self-realization of wholeness.

We believe that when you are connected with your soul on all levels (mental, physical, emotional) it allows you to be more present for yourself and others. When we are able to be present for ourselves we are able to more fully experience life - its joys and challenges - which then increases our ability to allow ourselves to be vulnerable with others so they can become more connected with their own souls as well.

We believe that everyone is capable of greatness. We believe in using our gifts in service of others, and we know that the work we do today will not only benefit ourselves but also those around us tomorrow.

Our mission is to bring people together in a safe space where they can connect with their inner light, feel empowered through positive energy, and learn new ways to reflect this positivity onto others in their lives.

We believe that you can change your life and the world. We are dedicated to helping you reach your full potential and to live the life that is right for you!