MASTER DIALOGUE Business as a Force for Good: Fiction or Action
About this Event
MASTER DIALOGUE : Business as a Force for Good: Fiction or Action
Jointly organized by Hong Kong Social Entrepreneurship Forum and B Lab (HK & Macau)
Powered by Impact Partners HK
Guest Speakers:
Ada WONG, Director of HKSEF, Executive Chair of Good Lab
Rachel CHAN, Chief Catalyst of Innofoco
Ada and Rachel are key members of the Consulting Team formed by HKSEF to conduct a major research project on Business for Good with a grant from the SIE Fund.
As we are all aware, capitalism as a global system is in deep crisis. As one leading expert puts it:
• Why do the majority of consumers doubt that large corporations are good for society?
• Why are executives regarded as ethically inferior to journalists and even lawyers?
• Why are CEOs more likely to be portrayed as villains than heroes in the popular media?
• Who do people seem to expect big companies to behave badly – to ravish the environment, exploit employees, and mislead customers?
Over the past decade or so, there have been some serious rethinking of capitalism in many parts of the world and scores of movements have emerged to reform, reinvent, and rejuvenate the capitalist enterprise.
Ada and Rachel will present and discuss their findings which cover both the global and local trends and practices. What they have found are thought-provoking, and deserve to be understood, debated and embraced by the business community as well as civic and political leaders.
The other parties in the Consulting Team include Ernst & Young (Brian Ho, Marcus Chau and team), Social Innovation Exchange (Louise Pulford, Marco Shek) and Nielsen as the Quantitative Survey partner.
Executive Summary:
https://hksef.org/wp-content/uploads/2020/11/BusinessForGood_Executive-Summary_EN_Final.pdf
Report:
https://hksef.org/wp-content/uploads/2020/11/BusinessForGood_FinalReport.pdf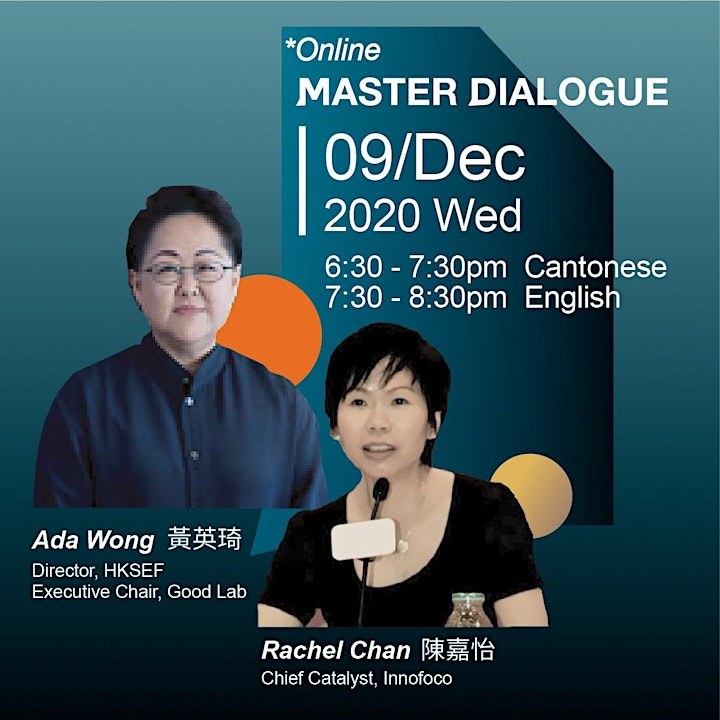 MASTER DIALOGUE via Zoom
Date: December 9, 2020 (Wed)
Time: 6:30 – 7:30pm Cantonese / 7:30 – 8:30pm English
Participants could take part in either Cantonese or English session or both.
Charge: HK$100 per person
*************************************************
Pre-dialogue briefing via Zoom, to be curated by Dr. K K Tse:
Date: December 1, 2020 (Tue)
Time: 6:30 – 7:30pm Cantonese / 7:30 – 8:30pm English
Charge: Free
*************************************************
Inquiry: info@impactpartnershk.com